Flat racing: Elm Park pedigree gives Balding hope for Classics

By Cornelius Lysaght
BBC horse racing correspondent
Last updated on .From the section Horse Racing9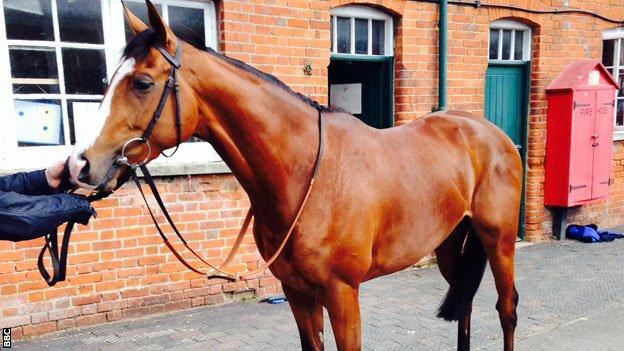 Andrew Balding is first and foremost a leading racehorse trainer with a prominent contender for flat racing's classics under his care; secondly, however, he's an ardent follower of Southampton FC.
And as we chat about his colt, Elm Park - sixth in the betting for the upcoming 2,000 Guineas, but the main British hope for the Derby (9-1) - his mind swings easily from Newmarket and Epsom to St Mary's.
"Our right-back Nathaniel Clyne is my favourite Saints player at the moment," he says. "And Elm Park has a bit in common with him: they both give you everything. It's just what you want in an athlete."
Balding, 42, is a regular at home games, but will have to watch from afar as the players attempt to secure a European place during the Premier League run-in.
The flat racing season is now getting into top gear, and Elm Park is among 180 horses - four owned by the Queen - housed at the historic Kingsclere stables and stud that need to be managed.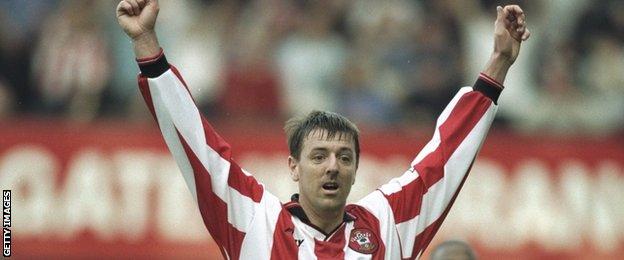 Situated between Newbury and Basingstoke and constructed by trainer John Porter in the 1880s, Kingsclere is dripping with racing heritage.
From here, Porter prepared the winners of 23 classics including seven in the Derby, employing gallops on the same down-land acres made famous in Richard Adams' 1970s novel Watership Down.
And apart from the odd 'all-weather' strip and newer stableyards, the place - from where Balding's father Ian saddled a string of equine talent including legendary 1971 Derby winner Mill Reef - probably doesn't look all that much different today.
Already, the current trainer has enjoyed classic success, with Casual Look in the Epsom Oaks for fillies in 2003, his first season with a licence, leading to a famously emotion-charged interview with TV-presenter sister Clare.
After a highly successful 2014 for both Elm Park and for the operation as a whole, hopes are high for the months ahead.
"It's seemed like quite a long and miserable winter," says Balding. "But having Elm Park and knowing he's a player for the classics has kept everyone warm and enthused.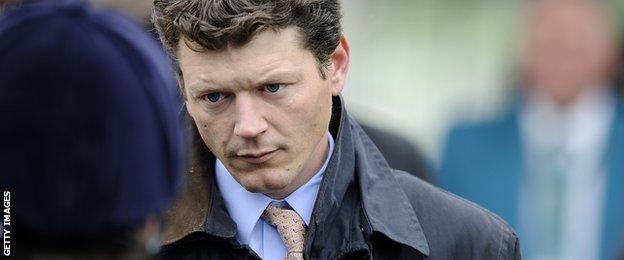 "There's a good team atmosphere anyway, but this has added to it, plus the fact that he was bred here, as the stud [run by mother Emma] is very much part of the whole thing."
In fact, the colt, the winner of four races - including the Group One Racing Trophy at Doncaster - from five starts as a two-year-old, was originally owned by the stable's in-house members' club before being sold to Sheikh Fahad Al Thani's burgeoning Qatar Racing.
And if Balding has born for a racing career at Kingsclere - as well as his immediate family, two uncles and both grandfathers were also trainers - then so was the 'home-grown' Elm Park.
Over five generations, all the stallions and all the mares in his pedigree, from his parents - Phoenix Reach and Lady Brora - and up his mother's side, were residents of the Baldings' stables and/or stud, and the line includes Mill Reef.
There's even a treasured, grainy photograph of Emma Balding, heavily pregnant with Andrew, greeting great-great grandmother Siliciana after winning the prestigious Prix de Flore in France in 1972.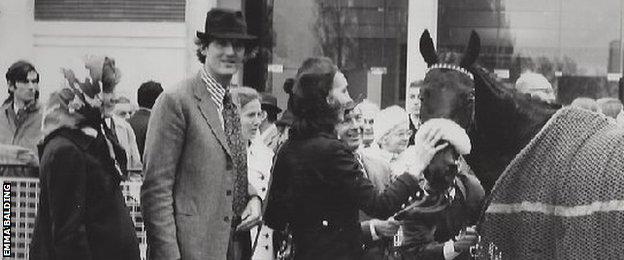 Elm Park, who'll be ridden by the Sheikh's employed jockey Andrea Atzeni, is due to go directly to the QIPCO 2000 Guineas on 2 May, though plans could alter slightly if the going at Newmarket is considered "lightning fast".
But whatever happens, the Investec Derby on 6 June - the race about which the team around the colt have been dreaming for over a year - is the main target.
Balding said: "We thought he was very nice early on because as soon he got upsides another horse [on the gallops], he instantly showed signs of turbo and went on into a fifth gear.
"I got [jockey] Liam Keniry to ride him, as he's one of the best judges around, and he came back and said 'this is a fair weapon' - to me that's his County Cork code for 'you've got a very good one'.
"First time out at Sandown, the horse was a bit gormless and was beaten, but he took about half a mile to pull up which was encouraging and since then he's won everything.
"Everyone knows he has a very good engine, but he doesn't have what you might call a regal pedigree. If he was by [champion stallion] Galileo out of a well-bred mare, and trained by Aidan O'Brien, I think he'd be 3-1 favourite for the Derby."
That the horse tipped to be a first Derby winner for this Southampton football fan is named after the former ground of near-rivals Reading is not lost on Balding.
"Oh yes", he said, "but we've now got two-year-olds called St Mary's and Le Tissier, and, with luck, they'll be pretty good too."