AP McCoy: Who can take over as champion jockey?

By Cornelius Lysaght
BBC horse racing correspondent
Last updated on .From the section Horse Racing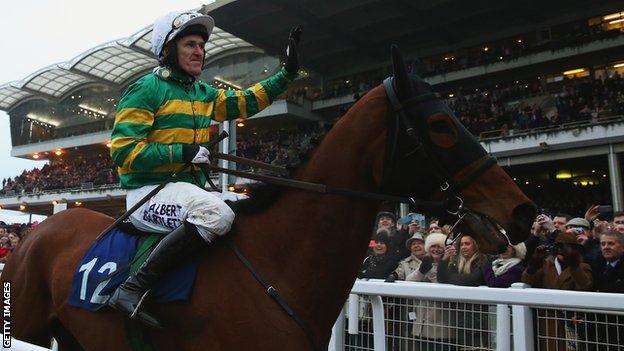 As one door closes, so another one opens, and the retirement of AP McCoy, such a dominant figure in the jump jockeys' changing room for so long, blows wide-open the race to be his successor.
There may never be 'another McCoy' but somebody will fill the big boots that have fitted the 20-time champion so snugly for two decades.
Richard Johnson, runner up behind McCoy during season after season, is the bookies' favourite to finally end those years of frustration in the new campaign which starts after just three days off.
Sam Twiston-Davies and Tom Scudamore are also being heavily touted.
But look, for a moment, at the numbers: between 800 and 900 mounts that McCoy could otherwise have taken are up for grabs, a total that during the 2014/15 season won him over 230 races.
So there are going to be all sorts of opportunities available and to more than just the big three...
Sean Bowen, 17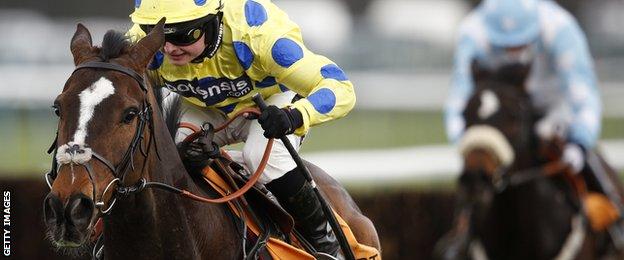 Credentials: Leading conditional (national hunt apprentice) jockey riding for champion trainer Paul Nicholls and trainer-father Peter.
Biggest moment: Amongst the youngest ever to line up in a Grand National on Mon Parrain in 2015.
Style: Teenage riding sensation.
Says: "It's been great to have been able to ride against AP. I just want to keep my head down and keep on riding winners."
Verdict: Has made a major impression, very quickly, and though it's probably too early to be talking about championships, he looks sure to be a contender sooner or later. 33-1.
Tom Cannon, 23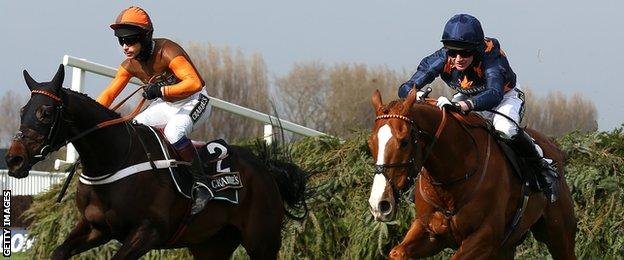 Credentials: Former pony-racer, show-jumper, eventer and champion point-to-pointer enjoying his breakthrough season and tipped for the top.
Biggest moment: Second place in Topham Chase, Aintree, 2015 on Jeremy Kyle-owned Fairy Rath having led for long way.
Style: Dark horse on the up.
Says: "It could be like the Arab Spring when the big men went and there was civil war - some of the lads will be involved in a right old scrap, and I'll be trying my best to capitalise on the way things have gone and get a slice of the action."
Verdict: Catching the eye of many and sure to improve his tally again; supporters convinced he has what it takes. 100-1.
Aidan Coleman, 26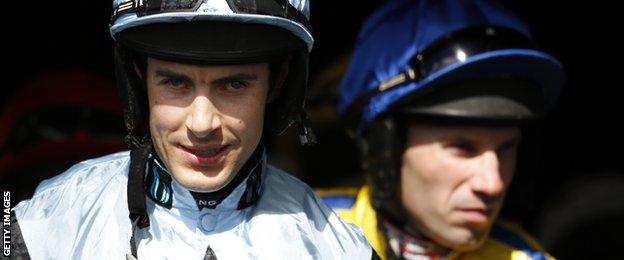 Credentials: Former champion conditional who's enjoyed a generally fruitful association with trainer Venetia Williams.
Best moment: A Cheltenham Festival winner aged 20, but he has endured notable bad luck in the Grand National particularly when rejecting the chance to ride 100-1 winner Mon Mome.
Style: Self-critical but rarely makes mistakes.
Says: "Obviously the bones of 850 rides and 250 winners are going a-begging, and us boys will looking forward to having a go. Hopefully I'll be in a position to get a few and make an impact."
Verdict: As well as Williams, other big-name trainers are also keeping him on their radar, and with so many mounts available, it would be no surprise to see him thereabouts." 50-1.
Noel Fehily, 40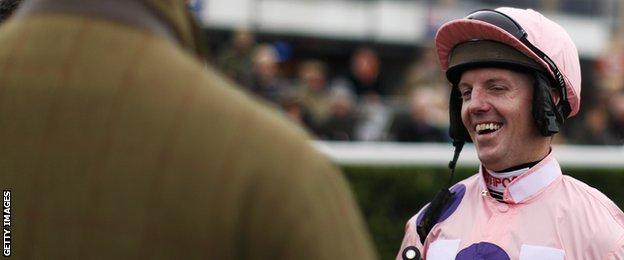 Credentials: Sought-after veteran riding regularly for trainers Charlie Longsdon, Harry Fry and Paul Nicholls.
Best moment: Link with the Nicholls-trained Silviniaco Conti has given him victories in five Grade 1 races in last two seasons including two King George V1 Chases.
Style: Highly-popular, evergreen.
Says: "Life will be a lot easier without him [McCoy]. He rode a lot of horses every year and a lot of winners which are now available - my agent's on the case and we'll be giving it a crack."
Verdict: One of the seniors, but regularly gives the youngsters something to think about, and is in the mix. 25-1.
Barry Geraghty, 35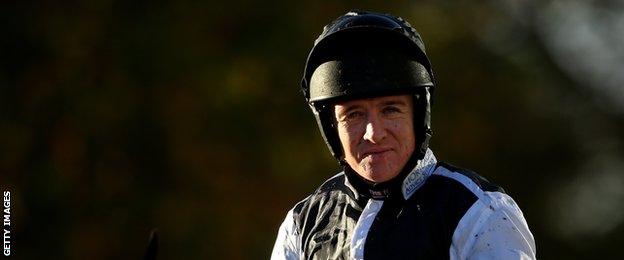 Credentials: Two-time champion jump jockey of Ireland and principal rider for trainer Nicky Henderson. Much spoken of as replacement for McCoy with owner JP McManus.
Best moment: Champion Chase/Gold Cup double on Sprinter Sacre/Bobs Worth at 2013 Cheltenham Festival.
Style: Mr Reliable.
Says: Has previously indicated reluctance to be in Britain any more often than now though could change if McManus job materialised.
Verdict: General feeling is that he might well be McManus' main man though it's unlikely he'd be up for quite as many miles as McCoy clocked up, opening opportunities for others. 9-1.
Brian Hughes, 29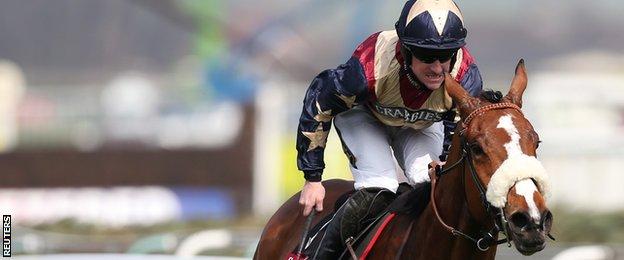 Credentials: Ex-conditional champion, now leading jockey on the North of England/Scottish circuit.
Best moment: Century of winners for the first time in the 2014/15 season.
Style: No nonsense, going places.
Says: "It's flattering to be mentioned, but realistically I don't see where the extra winners will come from. If opportunities did arise in the south on days when there's no racing in the north then I'd be happy to go anywhere for the chance of a winner."
Verdict: No jump jockey based in the north has been champion since two-time winner Jonjo O'Neill in the 1970s, during which time the region won five titles. And even though northern jumping is said to be struggling, there's no lack of talent amongst its top jockeys, all of whom have enjoyed record seasons. No forlorn hope. 50-1.
Richard Johnson, 37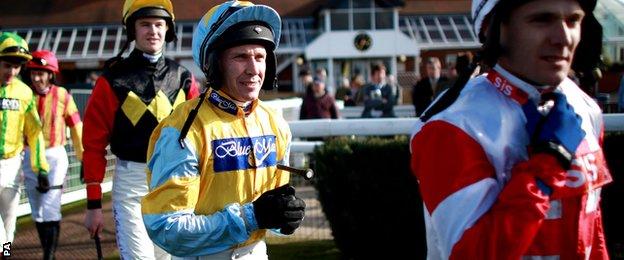 Credentials: With nearly 2800 winners, easily the second most successful jump jockey of all time, behind McCoy and runner-up to him in the championship 15 times.
Best moment: So many, but Champion Hurdle winner in 2003 on Rooster Booster.
Style: The professional's professional.
Says: "I'll be giving it everything I've got. It's the one thing that I've always wanted to do; it's been my goal since I started when I was 16. It would be nice if I manage to do that."
Verdict: If the title was a poll based on popularity and sentiment, he'd win by a landslide. With looser ties to specific stables than Twiston-Davies or Scudamore, he may be in a better position to grab opportunities. 7-4 favourite.
Jason Maguire, 35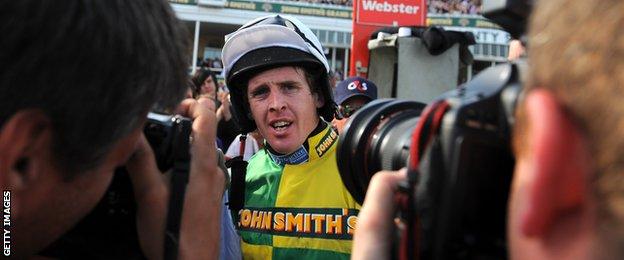 Credentials: Nephew of 1990s star Adrian. Despite serious injury, his association with the Donald McCain team has been particularly prolific, netting close to 400 winners in the last five seasons.
Best moment: Grand National success on the McCain-trained Ballabriggs (2011).
Style: Have saddle will travel.
Says: "His retirement opens the floodgates, and lots of the lads are seeing opportunities. But it's not a fluke that Richard Johnson has been second so often, and he'll be a tough nut to crack. I'm as keen as anyone in the business and hope to be back [after a back op] in the next couple of months."
Verdict: He needs to sort out his back, but with the support of McCain - who's all ready to bounce back after a quieter than usual season - plus that of many of the Irish trainers who regularly raid small GB fixtures, you wouldn't rule him out. 10-1.
Tom Scudamore, 32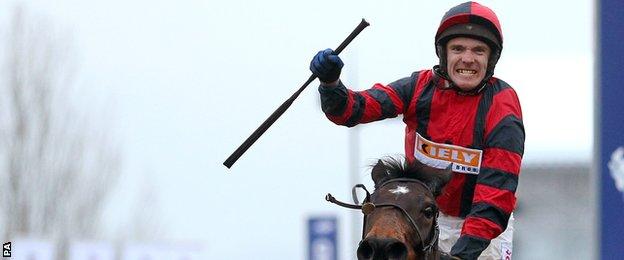 Credentials: Son of eight-time champion Peter and first-choice jockey for powerful David Pipe team and a number of growing strings, including those of David Bridgwater and trainer-brother Michael.
Biggest moment: Purple patch at 2014 Cheltenham Festival, including Ryanair Chase success on Dynaste.
Style: Thoughtful and articulate - has future media pundit written all over him.
Says: "I'll be giving myself every chance and working tooth and nail to win it, and it would be very special if I could follow Dad as he won the title so many times."
Verdict: Now established in the very top rank, and with some significant backers, his odds could be generous and he's the choice of punters seeking 'value'. 5-1.
Gavin Sheehan, 21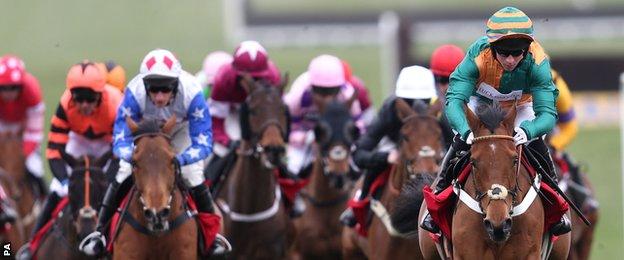 Credentials: Champion conditional enjoying best-ever season, which included receiving rave reviews for bold, front-running ride on Cole Harden to achieve first Cheltenham Festival win.
Best moment: Cole Harden.
Style: Upwardly mobile.
Says: "It would be a dream to be involved in any championship. My main thing is to keep on riding winners for more and more owners and trainers and to build on what I've achieved this season."
Verdict: Has star quality that's likely to carry him to the top of the tree in the years ahead. Is said to have caught the eye of the McCoy's employer JP McManus as he builds for the future. 100-1.
Sam Twiston-Davies, 22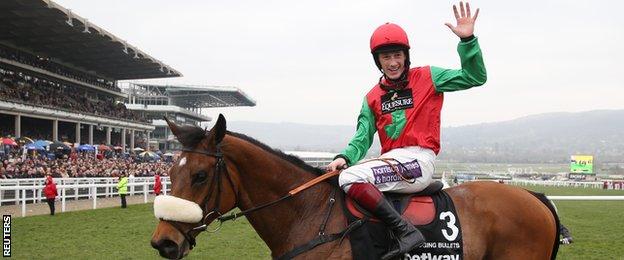 Credentials: Number one jockey to the powerful teams of champion trainer Paul Nicholls and father Nigel.
Best moment: Cementing association with Nicholls when continuing series of big-race wins with success on Dodging Bullets in Queen Mother Champion Chase at Cheltenham Festival.
Style: Increasingly confident Mr Nice Guy.
Says: "The main thing is to keep Paul and Nige on-side, and if things then fall for me in that type of [championship] direction that'll obviously be great."
Verdict: With such strong backing, he's clearly in a strong position to take advantage of McCoy's departure, and I'd imagine Paul Nicholls would relish the chance to 'make' a champion jockey again. 5-2.