Mark Prescott ready for 2000 Guineas debut

By Cornelius Lysaght
BBC horse racing correspondent
Last updated on .From the section Horse Racing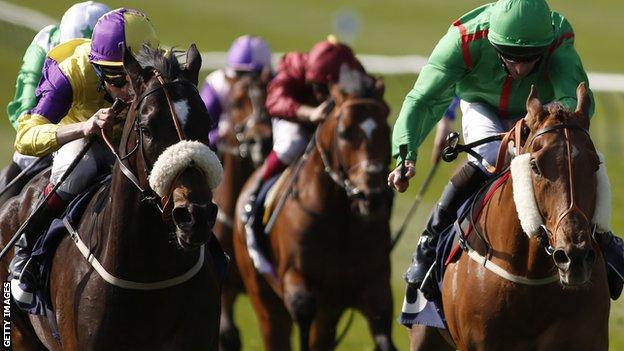 At 46 years in Newmarket, trainer Sir Mark Prescott may not have been associated with flat racing's HQ for quite as long as the 2000 Guineas, first staged in 1809.
However, not unlike the first Classic of the season, Prescott, 67, based at historic Heath House stables on the edge of the East Anglian town's longstanding training grounds, has become one of its institutions.
Since 1970, the hereditary baronet, often chomping on a cigar and practically always with a colourful turn-of-phrase or anecdote to hand, has been painstakingly plotting a path to the winners' circle for thousands of good, and less talented, horses.
So far, that detailed planning has borne fruit more than 2,000 times, with well-gambled success in almost impossibly competitive, vast-field handicaps, like Newmarket's Cambridgeshire Handicap in the autumn, his hallmark.
Away from the track, the son and grandson of Conservative MPs is famously non-PC, speaking his mind in favour of a wide-range of passions including bull-fighting, foxhunting and hare-coursing.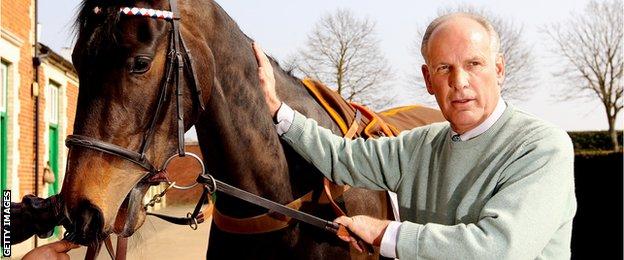 Now, in the 207th running of the 2000 Guineas, sponsored by Qipco, there's a chance for two pillars of the turf to come together for the first time.
Celestial Path will be Prescott's debut runner in the mile-long test, though he has saddled two contenders in the fillies-only 1000 Guineas, including 2006 runner-up Confidential Lady.
"I tell my owners I take a selective approach," he said.
"But in fact the good colts I've been lucky enough to have haven't been Guineas horses, more sprinters or mile-and-a-quarter-plus horses, but I'm thrilled to have this one."
When Celestial Path's octogenarian owner Gordon Woodall contacted Prescott with a budget of £100,000, his request was to find a horse, only his second ever, to fulfil a dream of being successful at York.
That part of the plan was ticked off first time out; the son of the prolific stallion Footstepsinthesand - himself the Guineas winner of 2005 - then followed up at Haydock before, on unsuitably soft going, finishing a creditable third behind leading Classic hope Elm Park at Doncaster in October.
"The owner said he'd been saving up, and he really had as the cheque arrived from the Woolwich Building Society," said Prescott. "He's 81, it's his second horse and it's a fairytale.
"Celestial Path's fit and well and loves firm ground which might inconvenience others.
Celestial Path (Ire)

Age:

3 (Foaled 8 March 2012)

Sex:

Brown Colt

Breeding:

Footstepsinthesand - Miss Kittyhawk (Ire) (Hawk Wing (USA)

Trainer:

Sir Mark Prescott

Owner:

Mr Gordon Woodall & Prof C Tisdall

Wins so far:

25 July 2014 - York (Chris Catlin) & 6 Sep 2014 - Haydock (Luke Morris)
"My job is trying to get the best out of the horses I have, whatever that might be, and I think that if Celestial Path is top class, the 2000 Guineas is the best chance of him shining.
"Mathematically he's about 25 or 33-1 which is probably about right."
Of his opponents in the £283,000-to-the-winner prize, for which first-choice jockey Luke Morris takes the mount, Prescott added with mock seriousness: "I keep saying to my rival trainers in Newmarket 'Have you any good news to cheer my day - got ringworm or lame behind?' and one or two have fallen by the wayside, but they sound very healthy elsewhere."
Elsewhere means in particular Ballydoyle, County Tipperary where Aidan O'Brien is preparing a team that's apparently as strong as ever, with Gleneagles and Ol' Man River both well-touted to give Ireland's champion flat trainer a 7th win.
Meanwhile, because of the firmness of the Newmarket going, concerns are growing about the participation of Elm Park owned by Qatari Sheikh Fahad al-Thani who's also the driving force behind Qipco's increasing number of British racing sponsorships.
Having heard about the generally dry weather forecast, the Sheikh's manager David Redvers said: "The good Lord doesn't give us many bonus points for sponsoring the event, does he? I think Sir Mark's closer to God than us."
Flat racing fans who've been following Prescott religiously for decades won't be disagreeing.