Brian Toomey returns to horse racing after 'dying'
Last updated on .From the section Horse Racing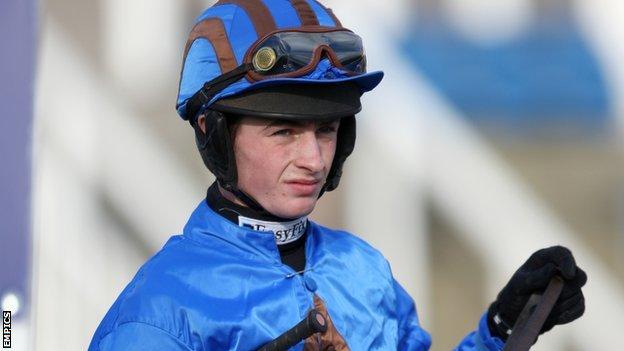 A jockey who was told he died for six seconds in a life-threatening fall is returning to professional horse racing.
Brian Toomey, 26, suffered severe head injuries in 2013 when his horse fell at Perth racecourse.
He had been given just a 3% chance of survival and spent 157 nights in hospital but, almost two years after the accident, he has been relicensed.
"The main thing that has kept me going was a desire to be a jockey again," said Toomey.
| Toomey's timeline to recovery | |
| --- | --- |
| 4 July 2013 | Brian Toomey suffers a heavy fall during a race at Perth racecourse and is taken to hospital with a life-threatening head injury. |
| 8 July 2013 | Toomey is put into an induced coma in hospital after surgery to reduce swelling on his brain. |
| 22 July 2013 | He comes out of the coma and can move his arms and legs. |
| August 2013 | Toomey moves hospitals as his condition improves. |
| November 2013 | He is no longer in hospital and recovering at home. |
| 8 June 2015 | After being passed medically fit to ride again, Toomey is relicensed as a professional jockey. |
"I know there will be people who will say I'm mad to want to come back but it's been my dream since I was a boy to be a jockey.
"It's a job and life I love, and I was absolutely determined that, if I couldn't make it back, it wouldn't be through a lack of effort on my part."
Toomey, who has ridden 49 winners since 2008, was initially placed in an induced coma before undergoing surgery to remove part of his skull to relieve pressure on his brain.
He returned to riding out - sitting on and managing a horse - before being passed fit to ride competitively again by two neurosurgeons.
"Just in surviving and overcoming all that I have been through I feel I have won the biggest and most important race of my life, and anything else is a bonus," Toomey added.
"I'm going to take my time and work on my fitness before taking my first ride. That's the next target to aim for and I'll give it my all to get there."
Listen to Toomey's interview on BBC Radio 5 live's In Short programme.