Royal Ascot: Record overseas entries adds to carnival feel

By Cornelius Lysaght
BBC horse racing correspondent
Last updated on .From the section Horse Racing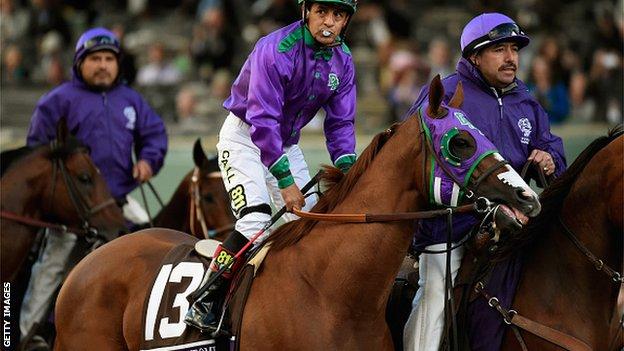 It is hard to know how amused Her Majesty would be at the notion, but to international flat racers 'her' five-day fixture has become one of the biggest 'carnivals' in the world.
Not, however, the kind of slightly untrendy jamboree in the British sense - though, let's be honest, Royal Ascot does well for floats, a parade and a 'carnival queen' - but the Australian-originated derivation of a major horse-racing event of global significance.
The carnivals which include November's Melbourne Cup or the Dubai World Cup in March are the obvious examples.
It's just the kind of situation officials longed for, but hardly dared to dream of, when the first invitations winged their way worldwide from Ascot's Berkshire HQ soon after the turn of the century.
But the royal connection, the history going back to the 1700s, and the indisputable prestige attached to the feature races ensured it didn't take long for racing's globetrotters to RSVP in the affirmative.
Prize money levels, which remain lower than most, were never part of anyone's thinking.
In 2015, a record number of overseas challengers are due, having travelled from the United States, Australia, Hong Kong and Japan to join the usual strong contingents from Ireland and France.
Feature races for the week at Royal Ascot
Tuesday, 16 June:
St James's Palace Stakes, 16:20 BST
Wednesday, 17 June:
Prince of Wales's Stakes, 16:20 BST
Thursday, 18 June:
Gold Cup, 16:20 BST
Friday, 19 June:
Coronation Stakes, 16:20 BST
Saturday, 20 June:
Diamond Jubilee Stakes, 16:20 BST
While the Aussies were early at the party, completing an unforgettable first and last day sprint double with the brilliant champion Choisir in 2003, it took others, notably the Americans, much longer to show up.
Since 2009, US trainer Wesley Ward has won four two-year old races - and is due to have a string of contenders again - while, in 2013, star name Animal Kingdom, the Dubai WC winner, chased Ascot glory, only to finish down the field in the Queen Anne Stakes.
This time, it was hoped American Horse of the Year California Chrome might become the highest profile trans-Atlantic contender when lining up in a potentially epic staging of the day-two feature, the Group One Prince of Wales's Stakes. Though serious doubts have been raised about his participation because of a foot abscess.
No final decision has been made about the colt's participation, but let's hope he does make it; it would be quite a story.
The four-year-old earned his lofty accolade with fairytale successes in two legs of the 2014 US Triple Crown, the Kentucky Derby and the Preakness Stakes before finishing a close fourth in the Belmont Stakes.
He's the product of the $2,500 mating of their $8,000 mare with an unknown stallion by "regular guys" Perry Martin and Steve Coburn, California Chrome's owners.
To friends, the whole enterprise sounded so unpromising that Martin and Coburn called themselves DAP racing - the Dumb Assed Partnership.
The chestnut-coloured colt, one of 20 horses under the care of 78-year-old trainer Art Sherman in southern California, was headed to Ascot, off the back of a fine Dubai World Cup second, with the equivalent of nearly £4m prize money banked.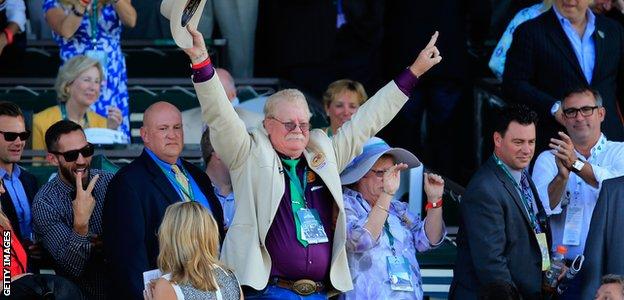 His target race has a pot of £525,000, around 10% percent of the total prize money on offer over the 30 races - eight in all at Group One level this year.
A constantly-growing band of fans, the 'Chromies' - the Queen is claimed as one - follow each chapter of this pretty remarkable rags-to-riches story.
"The horse has been quite a travel agent," said Stetson-wearing Coburn, who will be discarding his trademark cowboy hat and boots for traditional top hat and tails at Ascot.
"We've gone on first-trips to Kentucky, Maryland, New York, Pennsylvania, Dubai and now England. He's never let me down, even on his worst days.
"The 'Chromies' are a tremendous bunch of people who love this horse.
"When we got back home to Nevada from Kentucky, there were boxes on our front porch with letters from people from all over the world - some of them just said 'California Chrome, Nevada, USA' and they found their way to the house.
"I think it's because we're just two regular guys and we did it. We didn't have a boat load of money, and it's paid off in quite a tremendous way."
California Chrome is the winner of nine races but only one on grass as opposed to a synthetic surface, and Coburn, who wasn't originally keen to race on Ascot's hallowed turf, believes that if fit enough to race the horse is facing "the toughest test of his life".
But the 62-year-old, who recently retired from a job making magnetic strips for credit cards, is pleased that it is British-based jockey William Buick who'll be on board.
In a booming American twang that won't be missed amongst the 300,000-plus Royal Ascot crowds, he said: "A Buick is a great American-made car and California Chrome is a great American-made horse, he's a great jockey here, so it seems kinda right - hopefully it'll work out well."