Brian Toomey: Jockey has 'achieved impossible'

By Joe Wilson
BBC News sports correspondent
Last updated on .From the section Horse Racing
Irish jockey Brian Toomey says he has "achieved the impossible" as he prepares for his return to competitive horse racing in early July.
Toomey, 26, suffered severe head injuries and died for six seconds in 2013 when his horse fell at Perth.
Medical experts said his recovery is unprecedented, but he will not be at any greater risk than any other jockey.
"They can't get over it. I never gave up, and they reckon that was a massive help to me," he told BBC Sport.
Toomey had a huge section of his skull removed - and replaced with metal - as his brain swelled in an induced coma. He now speaks calmly about how close he came to death.
"I'm quite positive about the whole thing. Without being overconfident, it's a real sense of achievement. Doctors told me not many people come out of that. At the hurdle where I fell apparently I was dead for six seconds. The paramedics resuscitated me. Then I was rushed to the hospital with a 3% chance of survival."
For the first year of his recovery Toomey was not even allowed into a racehorse yard. He built up his strength by riding a plastic 'Equicizer', a simulator which mimics the movement needed to ride in a race. But now Toomey says that his recovery is complete.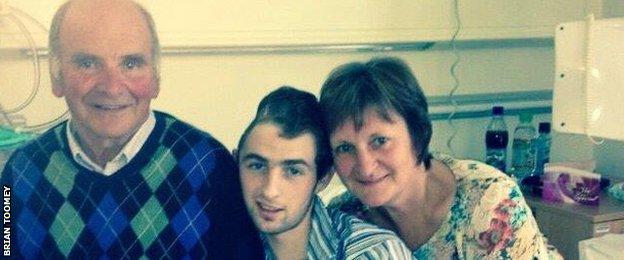 "I've seen three of the top neurosurgeons in England. I've had loads of scans, I've had eyesight tests, I've had hearing tests, I've had loads of balance tests, fitness tests. I've had so many tests to do and obviously I wouldn't have been allowed back if I wasn't 100%.
"Obviously a lot of people would have been trying to put me off getting back being a jockey, but it's always been my goal, my passion. I probably annoyed people sometimes because I'm quite competitive. I can't wait to get back."
British Horseracing Authority chief medical adviser Dr Jerry Hill said: "In terms of his return to race riding, as has already been emphasised, he was treated in the same way as any returning jockey with a range of assessments tailored to his injury type.
"No jockey is ever safe to fall but the second aspect was; did the neurosurgeons think his risk of further injury was unacceptably high if he were to fall again? They did not.
"The other key learning point for Brian is that to maintain optimum brain function he must keep physically fit, eat correctly and not be tired or dehydrated when he rides. We will remind him of this on a regular basis."
Toomey estimates he has had 50 falls in eight years. When asked about the prospect of falling again, he simply answered: "I'll get back up, hopefully."
Although falling is simply a fact of life in jump racing, Toomey, and his extended family, have been uniquely affected by the sport's risks and consequences.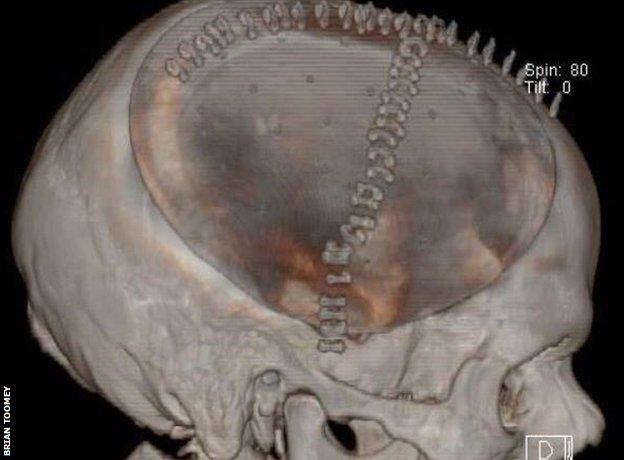 One cousin, JT McNamara, was left with severe paralysis after a fall at the Cheltenham festival in 2013. Another cousin, Robbie McNamara, suffered spinal injuries after a fall in Ireland in April.
With so much misfortune so close to home, Toomey acknowledges that he feels very lucky,
"The day the news came out that I'd got my licence back, I had a text message from John Thomas's phone. That would nearly bring a tear to your eye - someone like John Thomas, who's been that badly injured, saying that he's really happy that I've got back.
"Robbie has been badly injured, he's in hospital at the moment. We're still remaining hopeful that he can come out of it. The family's been hit fairly hard by injuries from racing, but hopefully we can make them forget about that and make them happy."
With 49 professional winners to his name in his career to date, Toomey says he has goals in the sport but acknowledges he has done something extraordinary just to reach the point of resuming his career.
"I've pretty much achieved the impossible just to get here," he added.
"People who inspire me like AP McCoy, I've been talking to him loads. He said he really admires me and said I've got nothing to prove. What I've overcome already is absolutely incredible and I really appreciate his kindness and his support.
"It's an amazing feeling, it's a very hard feeling to describe, it's a passion, it's an addiction. So I can't wait to get back."
| Toomey's timeline to recovery | |
| --- | --- |
| 4 July 2013 | Brian Toomey suffers a heavy fall during a race at Perth racecourse and is taken to hospital with a life-threatening head injury. |
| 8 July 2013 | Toomey is put into an induced coma in hospital after surgery to reduce swelling on his brain. |
| 22 July 2013 | He comes out of the coma and can move his arms and legs. |
| August 2013 | Toomey moves hospitals as his condition improves. |
| November 2013 | He is no longer in hospital and recovering at home. |
| 8 June 2015 | After being passed medically fit to ride again, Toomey is relicensed as a professional jockey. |