Matthew Hopkins: Jockey banned for three years after 987 bets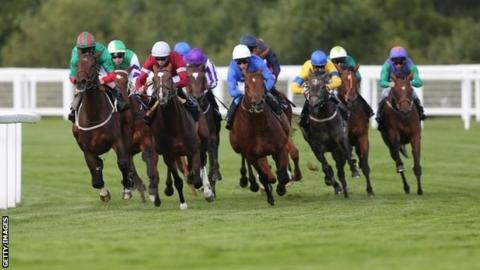 Former jockey Matthew Hopkins has been banned for three years after he placed 987 bets in a year while a licensed professional rider.
The 21-year-old was disqualified with immediate effect for breaching the rules governing gambling on horses.
His solicitor, Mark Edmondson, told a British Horseracing Authority hearing that Hopkins was receiving counselling for a gambling addiction.
He had not placed a bet since November of last year, Edmondson said.
The inquiry heard Hopkins placed 978 bets where he backed horses via his Bet365 account between 28 January, 2013 and 3 February, 2014.
He also had eight bets where he backed horses to win on Betfair and another where he laid a horse to lose.
"The bets were for small amounts and mostly unsuccessful," said the BHA, although exact details have not been released.
Edmondson told a disciplinary panel that gambling had become an illness for Hopkins "who at the time lacked guidance, and had found it only too easy to place small bets via his mobile phone".
A BHA spokesman said: "Jockeys licensed by the BHA are not permitted to bet on horseracing. All jockeys are educated on this as part of the courses they complete before being granted their licence.
"They are also made aware that this is a serious offence, the penalty for which is a period of disqualification."
Former apprentice Hopkins relinquished his licence in November after riding 27 winners.