Kauto Star: Ashes of racehorse to rest at Kempton Park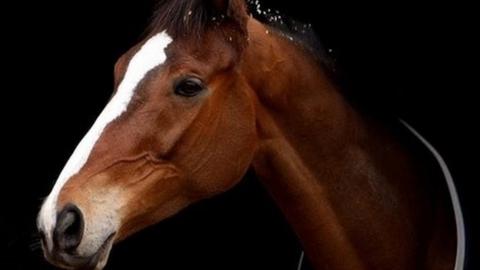 The ashes of racehorse Kauto Star are to rest underneath his statue at Kempton Park, says owner Clive Smith.
Kauto Star, a two-time Cheltenham Gold Cup winner, won the King George VI Chase at Kempton in Surrey an unprecedented five times.
The horse, trained by Paul Nicholls in Somerset, switched to dressage after retiring from racing in October 2012.
Kauto Star was put down aged 15 last week after a fall in a field at rider Laura Collett's Berkshire stables.
Smith said the horse was cremated in Cheltenham on Monday and he later went to place flowers at Kempton.
He commissioned two statues by sculptor Charlie Langdon. One, in the parade ring of the Surrey track, was unveiled at the King George meeting on Boxing Day last year, with the other at Smith's home.
"There are two boxes of ashes and I may put some here at home as well," said Smith.
He told BBC Somerset that he was "very honoured and proud" to have owned Kauto Star.
"He was a magnificent horse. He had speed, stamina, a wonderful heart an will to win," he added
Kauto Star factfile
Foaled
19 March 2000
Breeding
Village Star-Kauto Relka (France)
Races
41
Wins
23
Key victories
Cheltenham Gold Cup (2007, 2009); King George VI Chase (2006, 2007, 2008, 2009, 2011); Betfair Chase (2006, 2007, 2009, 2011)
Prize money
£2.4m
Collett has thanked supporters after telling the BBC she felt "hurt and bullied" by "malicious rumours" on social media questioning what had happened to the horse.
"It's been a harrowing week but I would like to say a huge thank you to everyone has shown their kind support," she said.
Smith said suggestions the truth had not been told were "plain ridiculous".
"There's been nothing to cover up. It's just hurtful and unnecessary. Everything that's been said has been the truth," he said.