Brian Toomey: 'Miracle' jockey to return at Southwell on Sunday
Last updated on .From the section Horse Racing
Jump jockey Brian Toomey says he is lucky to return to action at Southwell on Sunday - two years after a fall that nearly killed him.
He rides Kings Grey, trained by Philip Kirby, in a hurdle race at 16:20 BST.
The 26-year-old suffered severe head injuries and "died" for six seconds in 2013 when his horse fell at Perth.
"My fingers have been crossed so much in the last couple of years, I'm surprised they're not broken," he told BBC Sport.
Medical experts said his recovery is unprecedented, but he will not be at a greater risk than any other jockey.
Toomey had a large section of his skull removed - and replaced with metal - as his brain swelled in an induced coma.
"The race on Sunday has been my focus for the past two years," said Toomey, who spent 157 nights in hospital and last month was issued with a jump jockey's licence.
"I could have taken the career-ending insurance available to me but all I wanted to do was be a jockey. It's my passion, it's an addiction and it's been my dream since I was a boy to be a jockey - it's a job and a life I love."
A remarkable recovery
Toomey spent 157 nights in hospital following his fall in July 2013
Doctors said he had a 3% chance of survival
The jockey did not even go into a racehorse yard during his first year of recovery
Toomey received widespread support on social media and there was even a hashtag #prayforbriantoomey when concern for his condition was at its height.
He did not fully believe a return to race riding was realistic until he actually got his licence back.
"I knew I had a lot of support. I knew there was a lot of people hoping everything went well," said the Irishman.
"I was always determined to get back riding. That was the main thing that helped me. It was a long road but that was always my goal."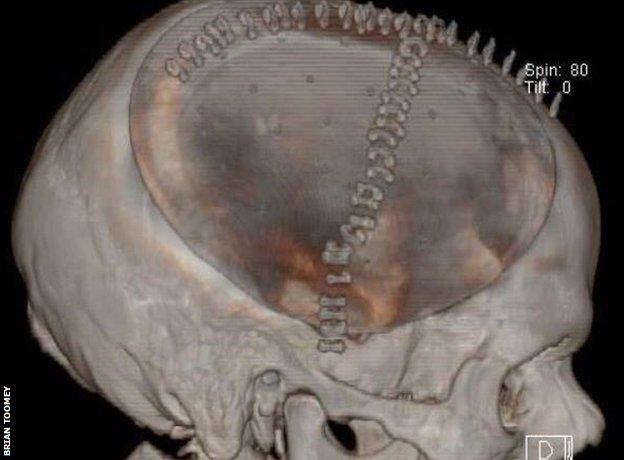 But he is determined to be known not just as the man who defied the odds, but as a talented rider in his own right.
"I don't want this to be just a story about 'Brian Toomey gets back after injury'. I want to get back and win big races, I want to be competitive. Hopefully I can get the ball rolling again," he said.
"Every jockey wants to win the top races like the Grand National, the Gold Cup or the Champion Hurdle. I've had a lot of luck so far, so hopefully it might continue."
He also hopes his story can be an example to others who have suffered serious head injuries,
"This happens to people every day of the week. People go through head injuries and brain injuries, and there's not many people to look up to, or people to compare yourself to because not many people talk about it afterwards," he added.
Toomey on injured jockeys
Toomey is a cousin of JT (John Thomas) McNamara and Robbie McNamara, who suffered serious injuries after falls.
"The day the news came out that I had my licence back I had a message from
John Thomas
on the phone saying 'well done. I'm proud of you and happy for you'. For someone like John Thomas, who has been paralysed, to say that is quite touching," said Toomey.
"Robbie is trying to keep his willpower and determination. It's very hard and we've still got our fingers crossed that
Robbie
can come out of it. It was a bad injury."