Brian Toomey: 'Miracle' jockey returns to racing at Southwell
Last updated on .From the section Horse Racing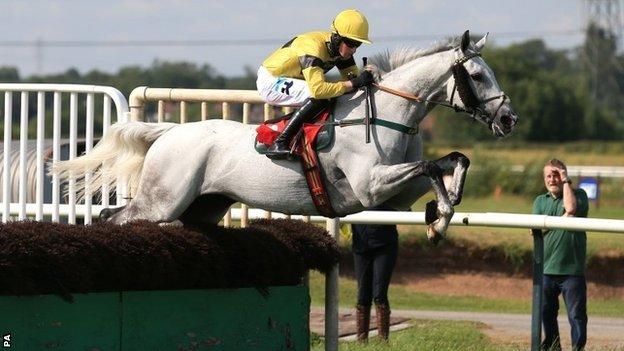 Jump jockey Brian Toomey has made his racing comeback at Southwell - two years after a fall nearly killed him.
Toomey did not have a fairytale return as he pulled up his mount Kings Grey, trained by Philip Kirby, in the 4.20 hurdle race won by 18-1 chance Daizy.
"I've been through the pain barrier and didn't want him to," he said of the horse, who was not lame afterwards.
Toomey, 26, suffered severe head injuries and "died" for six seconds in 2013 when his horse fell at Perth.
But he regained his licence last month and while medical experts say his recovery is unprecedented, he should not be at a greater risk than any other jockey.
Irishman Toomey was applauded into and out of the parade ring.
A remarkable recovery
Toomey spent 157 nights in hospital following his fall in July 2013
Doctors said he had a 3% chance of survival
The jockey did not even go into a racehorse yard during his first year of recovery
"It would have been a fairytale to have won, and he looked a good thing on paper, but he just didn't feel right and I couldn't ask him to carry on," he said.
"I wanted to get today out of the way and get my career back on track.
"I have a point to prove now, I've worked very hard to get here and I wouldn't have got back if it didn't mean the world to me.
"My family have been through hell, they remember when it first happened, but I don't."
Kirby said the horse had trotted up soundly in the yard after the Southwell race.
"I don't know what's happened, but they are both all right which is the main thing," he said.
"At the end of the day he is an 11-year-old and still a novice hurdler and he's that for a reason."
He said Toomey was likely to ride for him in a Bumper race at Uttoxeter this week.