Sir Peter O'Sullevan: 'Voice of Racing' dies aged 97
Last updated on .From the section Horse Racing
Former BBC racing commentator Sir Peter O'Sullevan - dubbed the 'Voice of Racing' - has died at home in London after a long illness, aged 97.
An icon in the sport, he commentated on 50 Grand Nationals and around 14,000 races before retiring in 1997.
Born in County Kerry in the Republic of Ireland, he was the BBC's main racing commentator for half a century.
In 1997, he set up a charitable trust which has since raised huge amounts for animal and racing-related charities.
Nigel Payne, chief executive of that charitable trust, said: "Sir Peter died earlier this afternoon, very peacefully, at home.
"Sir Peter was one of the greatest men I've ever known.
"Only last week he was talking about what he wanted me to do for the trust in the future. He was still very alert. It's a sad day."

O'Sullevan was racing correspondent of the Daily Express for 36 years and also worked for the Press Association.
Also a successful racehorse owner, he was recognised for his contribution to horse racing at the 2008 Cheltenham Festival, when the National Hunt Chase bore his name for that year.
AP McCoy, 20-times champion jump jockey, described O'Sullevan as "an amazing man", adding: "Sir Peter O'Sullevan, the epitome of class. The most distinguished and eloquent voice of racing."
McCoy's fellow jockeys Willie Carson and Jimmy Lindley, who both worked with O'Sullevan for the BBC, also paid tribute.
Carson said he had a voice like "velvet", while Lindley said "no-one else could give you the same feeling watching a race".
Lindley added: "He made it feel as if you were riding in it. You felt like you were on the horse yourself."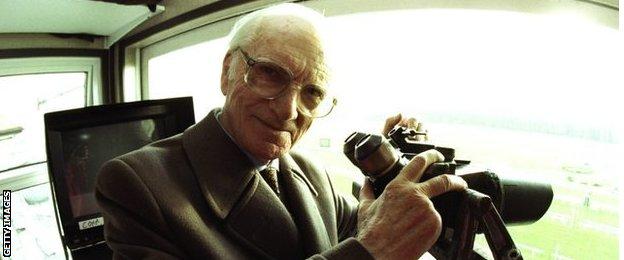 'One of the greatest of our time'
TV presenter Clare Balding, a retired amateur jockey, wrote on Twitter that O'Sullevan was "incomparable, irreplaceable, indelible", later adding on BBC Radio 5 live: "He was very much the professional, he knew a story when he saw it and he knew how to tell it.
"He was the soundtrack of our sport."
Match of the Day host Gary Lineker said he was "indisputably one of the greatest sporting commentators of our time".
Barbara Slater, director of BBC Sport, said: "Synonymous with the sport, his distinctive commentary graced many of racing's historic moments - from Red Rum's Grand National victories to Desert Orchid's extraordinary Gold Cup triumph.
"Peter was a legendary commentator and will be greatly missed."
Peter O'Sullevan in his own words
"I have been amazingly lucky to have a career as a commentator and racing journalist. A very lucky man."
"I sort of fell into a coma a fortnight before a big race. I would get terribly nervous."
"My wife would ask if there was something wrong with me in the weeks before a big race and I would say: "Why do you ask?" She would reply: "Well you haven't opened your mouth for a week so I thought something was up!"
BBC Sport's racing correspondent Cornelius Lysaght described O'Sullevan as "a true great".
Lysaght told BBC Radio 5 live: "The word is bandied around a lot but in the case of Sir Peter it cannot be used enough."
BBC Sport's Frank Keogh added: "Meeting your heroes normally comes with a warning, but there was no need to worry with Sir Peter O'Sullevan.
"His honeyed tones were the rhythmic racing backdrop to my upbringing, the comforting BBC voice in the corner calling home thoroughbreds."
'He was on our side of the fence'
Jim McGrath took over as the BBC's main racing commentator following O'Sullevan's retirement in 1997 and he remembers how meticulous his predecessor was in his preparation for races.
"Going back to the old days he would do his own colour coding which he would spend up to four hours painstakingly drawing the day before," McGrath told BBC Radio 5 live's Tribute to Sir Peter O'Sullevan.
"Identification is key in horse racing commentary and those many, many hours spent colouring helped him to become familiar with the horses."
Commentator John Motson and presenter Des Lynam both worked with O'Sullevan at some stage.
Motson revealed one conversation he had with O'Sullevan would play an important role in his own career.
"When I was working for a programme in the early '80s called 'Did You See...?' I was sent down to have a conversation with Peter about the art of commentary," Motson told the show.
"Two things he said to me were: to remember that the only thing we will be remembered for is the commentary we get wrong and that we are only half a second away from saying something wrong on air. Those words stuck with me for the next 30 years."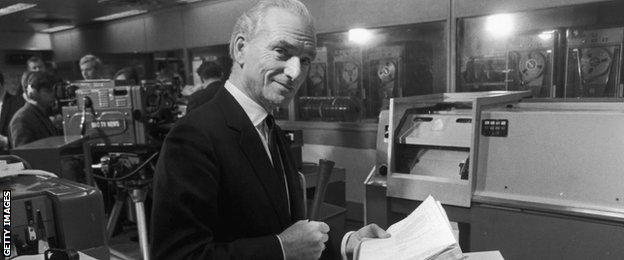 Lynam described O'Sullevan's voice as "majestic" and remembered fondly social gatherings with him.
"Most of my stories concerning Peter seem to revolve around red wine," he joked. "He was an extraordinary man. A race happens so quickly but he was great at reading it."
Former jockey Peter Scudamore said races he competed in would be elevated if he knew O'Sullevan was to commentate on them.
"It just seemed to give the race that extra edge," he said.
"Everybody had huge respect for him. He carried his dignity so well. He was part of us. Sometimes in sport these days journalists are on the other side of the fence, he was on our side of the fence."