Sir Peter O'Sullevan: The unmistakable voice of the races
Last updated on .From the section Horse Racing
For half-a-century Sir Peter O'Sullevan's melodious tones called home horse racing's runners and riders. His voice was calm, calculated and unfaltering amid the shifting patterns of countless big races.
In the sport of kings, he was television commentary's first knight; practised in the art of dissecting a frenzied finish.
Though born in the Irish Republic, Sir Peter was brought up by indulgent grandparents in Surrey, after his mother and father separated.
His lifetime love affair with the sport began in 1927 when, as a small boy, he heard his first horse racing radio commentary.
A year later he had a sixpenny each-way bet on Tipperary Tim in the Grand National at Aintree.
His small investment paid off handsomely as the horse, at odds of 100/1, went on to win.
The young Peter O'Sullevan was understandably hooked. Similarly long odds, however, were to confront young Peter in his everyday life.
He suffered from serious bouts of asthma and bronchitis and never dreamed of a life blessed with such longevity.
For health reasons he was declared unfit for the army in 1944, so took a job with the rescue services in Chelsea. "At that time I wouldn't have taken odds of 100/1 of me reaching 50," he once said in an interview.
After the war he became racing correspondent with the Press Association before going to the Daily Express.
In 1947 he became a BBC radio commentator as well and, in 1960, he moved into television.
Sir Peter's voice would soon become synonymous with the sport. With his distinctive, velvety tones he could communicate all the excitement of a race without ever becoming hysterical.
Sir Peter's stylish composure and precision of thought, however, required no little exertion.
He was supremely comfortable with his sport, primarily because he worked so hard and so long at cultivating his knowledge.
He spent hours preparing for his commentaries, drawing up details of runners and riders, and memorising their silks - Sir Peter calculated that he has commentated on some 14,000 races.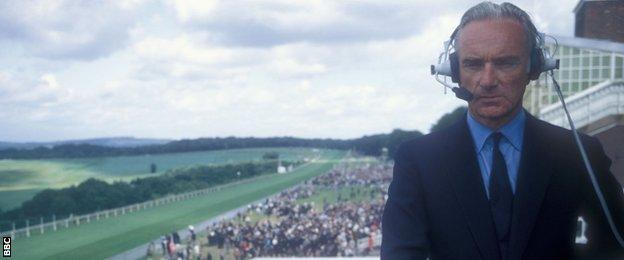 Sir Peter was also a horse owner and breeder, but he never let his success in these fields infringe upon his duties as a commentator.
Even as his "little star", Attivo, galloped to victory in the 1974 Triumph Hurdle, he maintained his steely professionalism.
Despite later describing the event as "a bit of a dream", he expertly retained his composure during commentary.
In announcing the words "owned by Peter O'Sullevan", he at least appeared to be a disinterested onlooker.
As racing correspondent of the Daily Express for 36 years he exerted much influence, campaigning strenuously for the introduction of the patrol car camera, which has so dramatically improved safety standards.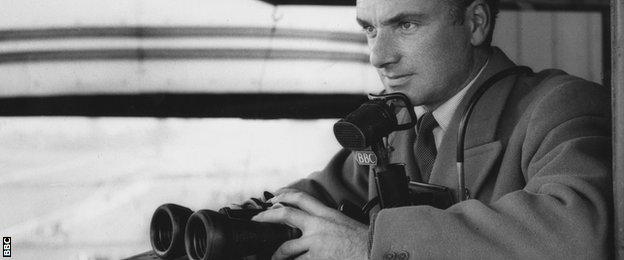 He argued, often contentiously so, that Aintree's infamous Becher's Brook, which he termed "a fraud", be made less demanding and consequently less spectacular in the eyes of thrill-seekers.
In 1980, he finally persuaded the Jockey Club that racegoers shared his abhorrence of the whip when used excessively.
Somewhat surprisingly, Sir Peter, while publicly chronicling racing's affairs, was able to remain friends with people involved in the sport.
So in 1997, when he announced his retirement and became the first sports commentator to be knighted, aristocrats and rogues alike - occasionally both in the same person - queued up to sing his praises.
The sport of kings will miss a man whose professionalism and dignity contributed to the enjoyment of countless thousands of racing fans.