Towcester racecourse boss Kevin Ackerman faces corruption ban
Last updated on .From the section Horse Racing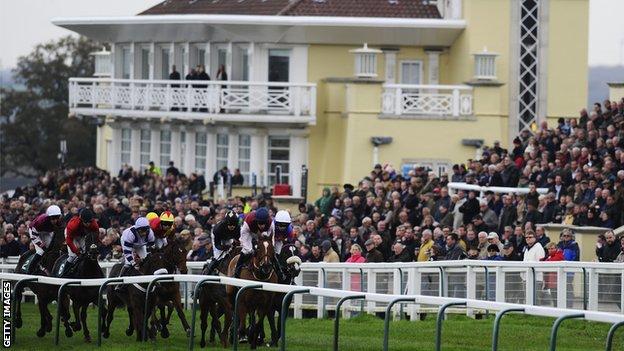 The chief executive of Towcester racecourse, Kevin Ackerman, faces being banned from all racetracks after he was found guilty at a racing corruption hearing.
Ackerman laid bets against a horse knowing its jockey aimed not to win.
The jockey, Michael Stainton, owner David Greenwood and registered owner Kenneth Mackay were also found in breach of racing rules.
The British Horseracing Authority (BHA) has yet to decide their punishments.
The disciplinary panel found Stainton failed to ride Ad Vitam on its merits in four races because Greenwood wanted the horse's official rating to be lowered.
Former licensed jockey Claire Murray was found not in breach of any rules.
All five had strenuously denied the allegations, which related to a period between November 2011 and March 2012.
The punishment for breaching the rule Ackerman was found guilty of can include a ban of six months to 10 years, according to BHA guidelines.