Treve: Trainer and song behind Prix de l'Arc de Triomphe favourite

Last updated on .From the section Horse Racing
Qatar Prix de l'Arc de Triomphe
Date:
Sunday, 4 October
Venue:
Longchamp
Time:
14:55 BST
BBC coverage:
Commentaries on Radio 5 live - 14:10 Prix de l'Opera; 14:55 Prix de l'Arc de Triomphe; 15:40 Prix de l'Abbaye
On Sunday, a horse will attempt to make history in Europe's richest race - yet the significance extends far beyond the two and a half minutes it will take her to complete the race in Paris.
Treve is seeking a record third Prix de l'Arc de Triomphe win, but she also has a role in helping to revive the whole concept of horse racing in France.
Two people are playing a crucial part in that process. One is her trainer - Criquette Head-Maarek, one of the most significant women in any sport. The other, more incongruously, a blues singer who once performed the national anthem at a Rugby World Cup semi-final.
"Treve is an unbelievable horse. She's going to become one of the most legendary horses ever, I believe. We thought she deserved a song to become like an anthem for her."
So says Dan Mitrecey, singer and lyricist of Fly Away Treve.
He is a Frenchman who followed his musical heart to the southern states of the USA. He has lived in Georgia and Texas, and once toured though Finland and Sweden with the Irish blues singer and guitarist Rory Gallagher.
From the blues to Les Bleus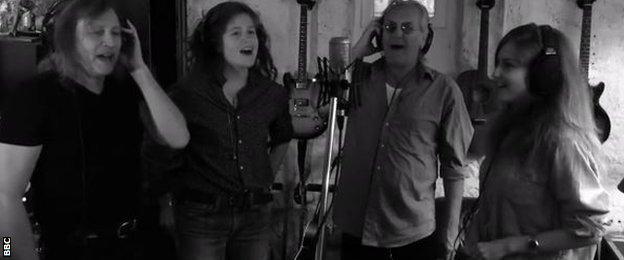 Mitrecey tells a story of being invited to Twickenham in 1999 to sing the national anthem before France's Rugby World Cup semi-final against New Zealand.
They forgot to count him in at the start of La Marseillaise but he got through it, and the French claimed their most famous rugby victory.
These days he focuses on horse racing and works as a journalist, but he was inspired to return to the recording studio by Treve, whose name translates into English as 'truce'.
The song is delivered, deliberately, in the style of The Eagles. It is an easy-going country-rock refrain that is supposed to stay in your head.
"This horse is so amazing - the way she moves, the way she wins. She's just unbelievable. Maybe the horse of all time," Mitrecey says.
"We in France still have maybe - as most people might say - the best races. But still there's a crisis here in France and people are not going to the horse races anymore.
"They watch it on TV but Treve is not so famous here in France. If you asked people on the street who Treve is, most people don't know. So it's a good thing to try to spread this news. People have to know who Treve is to go back to horse racing."
The poster girl for French racing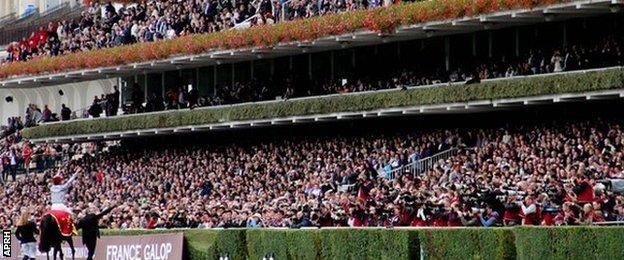 From a distance, French horse racing can certainly appear prestigious, glamorous and wealthy. After all, with Qatari backing, prize money for the Prix de l'Arc de Triomphe stands at five million euros (about £3.8m). They are proud to call it Europe's richest race.
Beneath that, there is concern racing is disappearing from the general sports agenda. Jockeys do not enjoy the fame the leading riders have in Britain and Ireland, and race meetings are not widely considered a 'day out' among the general public.
In Chantilly, France's equivalent of Newmarket, more than 2,000 horses are in training. Some 85 of them are with the remarkable Head-Maarek.
After almost 40 years as a trainer, the 66-year-old knows how lucky she is to have Treve. Head-Maarek believes people can be drawn to the horse for the pleasure of seeing her run, not simply because they are betting. This takes Treve to a different level of fame, especially if she could win the Arc again.
"She's got a tremendous turn of foot and she can accelerate any time you want, so that's where she's really good," says her trainer.
"You can place her anywhere in the race and she will go for the lead, so she takes you to the wire."
Illness to elation - 'the horses helped me'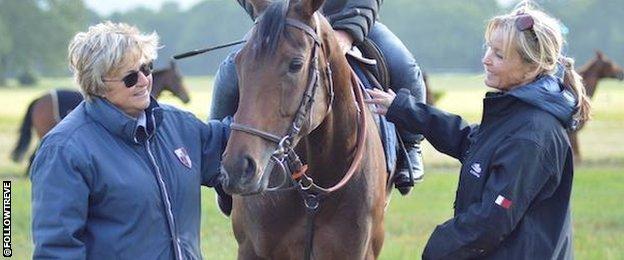 "Treve is something else," says Head-Maarek. "You don't have Treve every year in your yard. Horses like that make you feel good - a race a day keeps the doctor away…"
She smiles and laughs, but there is more than just a hint of truth in what the Frenchwoman says. Ten years ago she kept working while being treated for cancer.
"When you have a problem like that, afterwards every day is a new day. Horses helped me a lot - not to think that I was sick, even if I was," she recalls.
"For three months I had a very hard treatment but every morning I was in my yard working my horses. I couldn't go racing in the afternoon for three months because I had to go through chemotherapy, radiotherapy and all the things they did to me. But I did think the horses helped me because I love my job and I was not thinking that I was sick."
Leading ladies and fan mail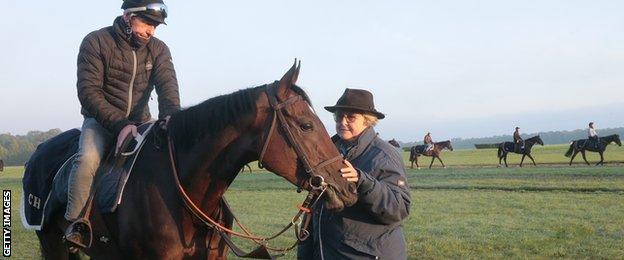 Head-Maarek comes from a famous French horse racing family - her father Alec and her brother Freddy are revered in racing circles for feats of breeding, riding and training. The only thing that made Criquette different was she was female. In the 1970s, when she applied for a trainer's licence, there was almost no precedent.
''The problem came with governing body France Galop - they thought, a woman trainer? Well, there was no woman trainer in this country. So they were maybe shy for me, but amongst my colleagues there was never a problem. And I was very lucky, because very quickly I won big races," she says.
"I always wanted to be a trainer. When I was very small, my dad used to say: 'You'll marry a trainer but there's no woman trainer.' I achieved to be one and then I achieved to have lots of winners; I've won nearly 3,000 races."
A third Arc for Treve, matching the achievement of 2013 and 2014, would be the most famous of all those victories. If it is important in putting French horse racing back on the map, then those who promote the sport there will be cheered by one anecdote.
Head-Maarek says she recently received a piece of fan mail all the way from Brazil. The envelope was simply addressed: 'Treve, Chantilly, France.' But, as the trainer says with her habitual beam: 'It did arrive.'
Many who follow the sport expect Treve to arrive first, at the winning post, on Sunday.