Towcester chief Kevin Ackerman given six-month ban for corruption
Last updated on .From the section Horse Racing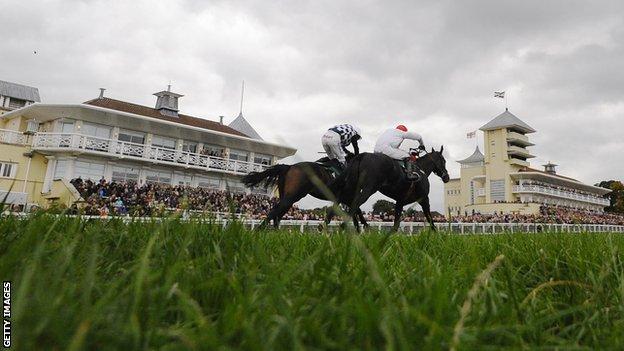 Towcester racecourse chief executive Kevin Ackerman has been banned from racing for six months after being found guilty of corruption.
Ackerman laid bets against a horse knowing its jockey aimed not to win.
Jockey Michael Stainton, owner David Greenwood and registered owner Kenneth Mackay have received bans of between six months and eight years.
The Towcester racecourse board said it would support Ackerman in an appeal to "ensure fairness and good practice".
Towcester chairman Lord Hesketh said in a statement: "I have always been concerned to see that justice is seen to have been done. Forty years of experience in the sporting arena has given me doubts with regard to 'quasi-judicial procedures'."
The British Horseracing Authority (BHA) found the quartet guilty at a disciplinary panel hearing in September.
A statement from Stewart-Moore Solicitors, which is representing Ackerman and Greenwood, described the panel's findings as "completely illogical" and confirmed the pair would appeal.
Stewart-Moore Solicitors statement
"Mr Ackerman and Mr Greenwood have been found in breach of the rules of racing on the basis of charges that were never put to them. Obviously that is fundamentally unjust.
"In any event, the panel's findings are completely illogical. The finding that there was no conspiracy between Mr Greenwood and Mr Ackerman means just that - there was no conspiracy and therefore the British Horseracing Authority's case fails."
"The fact that the panel has contrived to find our clients in breach in these circumstance makes absolutely no sense whatsoever. Both Mr Ackerman and Mr Greenwood will be appealing the panel's finding given the very obvious and fatal flaw in the panel's reasoning."
The disciplinary panel found Stainton failed to ride Ad Vitam on its merits in four races because Greenwood wanted the horse's official rating to be lowered.
Greenwood was found to have communicated this information to Ackerman, who placed four lay bets - betting on the horse to lose - and Mackay.
Stainton has been banned for two years, with Greenwood, who had already been warned off for a separate offence, excluded for eight years, and Mackay for six months.
Ackerman and Mackay were also fined £5,000 each.
All five had strenuously denied the allegations, which related to a period between November 2011 and March 2012.
Former jockey Claire Murray was cleared of all charges in connection with the case.