Sir Peter O'Sullevan: Hundreds pay tribute to 'Voice of Racing'
Last updated on .From the section Horse Racing
Hundreds of people paid tribute to former BBC racing commentator Sir Peter O'Sullevan at a thanksgiving service in London on Tuesday 27 October.
He commentated on 50 Grand Nationals and around 14,000 races before retiring in 1997.
Readings were given by broadcaster Sir Terry Wogan and actress Joanna Lumley, while a 'who's who' of racing gathered.
Former champion jockeys Lester Piggott and AP McCoy, and trainers including Paul Nicholls, Nicky Henderson, Martin Pipe and son David, John Gosden, Francois Doumen and Criquette Head-Maarek were among those in attendance.
Racehorse owners JP McManus and Michael Tabor, plus broadcaster Clare Balding, were also at the service in Chelsea.
In a eulogy, journalist Hugh McIlvanney said O'Sullevan was "in a league of his own".
"Peter didn't just enhance an occasion, he helped enrich lives," he said.
"He was one of the greatest commentators racing, or any sport, has produced.
"He was part of the national fabric as far back as the majority of the population can remember."
McIlvanney told how O'Sullevan - born in County Kerry in the Republic of Ireland - had overcome childhood illnesses including chronic asthma and pneumonia.
Describing the young Peter's 'Phantom of the Opera' stage because of severe acne from his mid-to-late teens, he told how O'Sullevan had to wear a medicated mask and shied away from being in public.
Peter O'Sullevan in his own words
"I have been amazingly lucky to have a career as a commentator and racing journalist. A very lucky man."
"I sort of fell into a coma a fortnight before a big race. I would get terribly nervous."
"My wife would ask if there was something wrong with me in the weeks before a big race and I would say: "Why do you ask?" She would reply: "Well you haven't opened your mouth for a week so I thought something was up!"
Yet he grew to become an iconic sporting figure, whose broadcasts were seen and heard around the world.
"He was happy that his fame throughout racing and beyond was as 'The Voice'," said McIlvanney,
A selection of music chosen by Sir Peter in 1997 for the BBC's Desert Island Discs was played before the service.
Broadcaster Sir Terry Wogan read 'The Donkey' by G.K. Chesterton, while actress Joanna Lumley read 'At Grass' by poet Philip Larkin,.
The hymns were 'All Things Bright and Beautiful'; 'The Day Though Gavest, Lord, Is Ended'; and 'How Great Thou Art'.
McIlvanney said O'Sullevan drove to the prestigious French race, the Prix de l'Arc de Triomphe in Paris, every year from his 20s into his 90s.
"At the wheel aged 94, he would still give a fair impression of a getaway driver in a bank robbery," he said.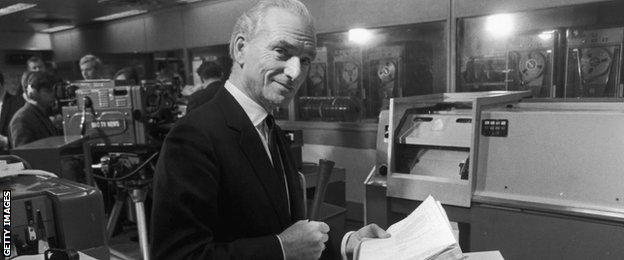 Comedian Rory Bremner gave his own interpretation of O'Sullevan - who helped raise more than £4m for animal welfare charities - and ended the service in the style of a racing commentary.
Calling O'Sullevan "quite unique", he recalled asking him if he remembered all the races he commentated on.
O'Sullevan had joked: "I can remember them all as if it was yesterday. The trouble is I can't remember yesterday."