Victoria Pendleton pulls up in second point-to-point ride
Last updated on .From the section Horse Racing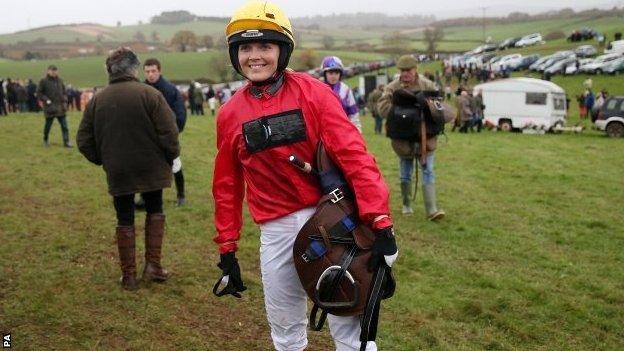 Victoria Pendleton pulled up two fences from the finish on her second ride in a point-to-point at Barbury Castle in Wiltshire on Sunday.
The ex-Olympic and world track cycling champion, who pulled up on her debut, rode the Alan Hill-trained According To Sarah in the AGA Ladies Open.
The pair jumped and travelled well in the three-mile race before tiring.
The 35-year-old is aiming to ride over jumps in an amateur race at the Cheltenham Festival in March.
Hill and his wife Lawney have worked closely with Pendleton since her switch after her retirement from cycling in 2012.
Lawney Hill said: "Victoria had a great ride and was much more competitive than last week. Last week was all about getting round, but this time she was seeing strides at her fences and she rode really well - she didn't look like a novice at all.
"She jumped the mare off and settled her in behind before moving up. She probably led for about a circuit.
"The mare got tired and made one or two mistakes and Victoria sensibly pulled her up.
"It's a shame she didn't finish the race, but when they empty like that, you're on a hiding to nothing and she's come back buzzing."