Joseph O'Brien makes amazing start to trainer career with four winners
Last updated on .From the section Horse Racing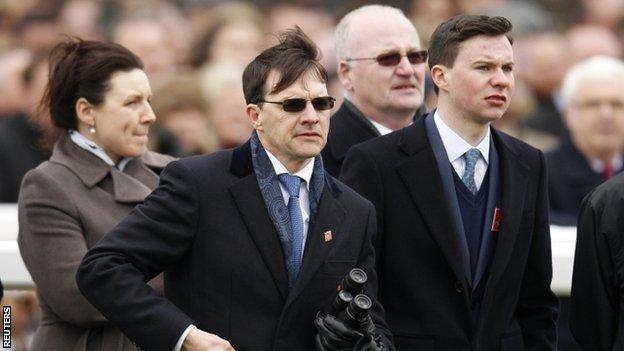 Former champion flat jockey Joseph O'Brien enjoyed a spectacular first day as a trainer with four winners, with three of them ridden by his siblings.
Two came at Ireland's Gowran Park where O'Brien's 17-year-old brother Donnacha rode Justice Frederick and then Zig Zag to victory.
More remarkably, Justice Frederick beat a horse trained by their father, Aidan.
Mai Fitzs Jack won O'Brien's first winner at Listowel and his sister, Sarah, claimed a second on Oathkeeper.
Multiple Classic winner O'Brien has been overseeing a team of horses at his family's Piltown yard, but until he completed all his training modules they were competing under the name of his father, Aidan.
The 23-year-old was not there to see any of his winners, he was too busy sourcing new horses at the sales.
Aidan O'Brien was at Listowel, where he said: "Straight away I got put in my place!
"It was great in Gowran and our own horse [runner-up Leo Minor] maybe got a little tired. I underestimated the strength of Joseph's horse, obviously.
"It has been an incredible day - how can you improve on that?"
Analysis
Horse racing correspondent Cornelius Lysaght
OK, the horses weren't slow-coaches and Joseph is hardly a rookie because he's been assisting his dad for some time, receiving credit for his part in a whole lot of successes.
But to clock up four winners on your first day is still spectacular, made even better I guess by the involvement of jockey-brother Donnacha and jockey-sister Sarah.
Success for Aidan has been based on all kinds of things, one a single-mindedness to do things his way; Joseph chose to attend the sales and not the races today, so a chip off the old block?