Aidan O'Brien: Profile of record-breaking racehorse trainer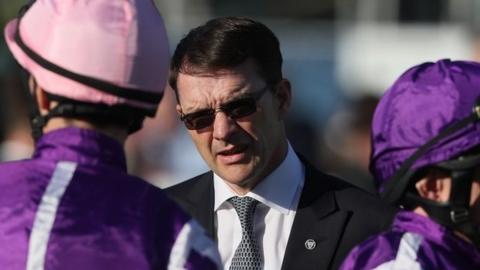 Let me take you back to 1994, and an autumn fixture at leafy Gowran Park in County Kilkenny, Ireland.
I was there because for some time the talk had been growing of a new, rising-star trainer, principally at that stage dealing with National Hunt horses. His name was Aidan O'Brien.
Formerly a successful amateur jockey with around 80 racecourse wins to his name, he had been an assistant at the academy run by trainer Jim Bolger - renowned for producing exceptional people as well as racehorses.
There, working alongside the redoubtable Bolger, and future stars including jockeys AP McCoy and Paul Carberry, O'Brien had earned rave reviews.
Even so, in the UK there was definitely an element about him of 'Aidan who?'
What people did know was that he churned out winners prepared up a famously steep hill, that - unusually for the horse racing fraternity - he had signed a pledge against alcohol, and that he didn't say much to the media.
Our encounter outside Gowran's saddling boxes didn't do a great deal to change any views on the latter point.
Though unfailingly polite, he answered all of my questions with four or five-word sentences, his face contorting as he agonised over virtually every syllable. And anyone witnessing this must have thought we were involved in a very slow dance, as he manoeuvred one step at a time around the small area in which we were talking, me following on.
Twenty-three years later, as O'Brien surpasses the late Bobby Frankel as the most successful trainer of Group One horses in a calendar year, what has changed?
Well, his location first of all.
For the 1996 Flat season, the then 26-year-old O'Brien moved from that steep hill at Piltown to the lush, green acres of the Coolmore racing empire's Ballydoyle estate in County Tipperary.
With Coolmore's thoroughbred breeding arm - featuring super-stallion Galileo - operating on all cylinders, Ballydoyle is these days stuffed full of horses with talent to match their impeccable pedigrees.
And though there must be the odd blip along the way, the trainer - who continues to celebrate with soft drinks - has assembled a formidable team of people around him.
Those team members, including wife Anne-Marie and his four children - though Joseph, the oldest and the operation's one-time first-choice jockey, now trains separately - tend not to mess things up.
Interviews with O'Brien remain always polite, but the answers, now sprinkled with the first names of questioners, have come a long way since that fairly monosyllabic day at Gowran.
They also take place only after he has prised himself away from a ubiquitous mobile phone pressed hard against the ear so he can speak to…who knows?
And, whatever is said about the content of the interviews, he has developed a highly distinctive line in catchphrases and words.
Most popular is "the lads" - Coolmore partners John Magnier, Michael Tabor and Derrick Smith - who make decisions about racing, though it's doubtful they contradict their trainer very often.
"Please God" gets a considerable airing (did he mean the Almighty or the ever-powerful Magnier?) and "listen" has always received high usage, something perhaps acknowledged by "the lads" when it was given as a name to a filly.
Multiple entries are made for all horses - "they're in everything" - and such and such a race is a "definite possibility".
With a view to future careers, passing on genes at stud, labels about being "a natural", having "a great mind" and "bags of speed" - or all three - get many outings.
I must have spoken to O'Brien dozens of times over the years and he has never taken any personal credit, humbly insisting he is grateful to be in the position in which he finds himself.
It drives you mad. "Don't be modest," I gently chide - but to little avail.
Instead, like confetti, he throws around the names of Ballydoyle staff who have been involved, all of them individually name-checked. Often that's a lot of people, and a lot of air time.
And it all shows no sign of stopping - which is, of course, both good and bad.
Group One record
Bobby Frankel: American trainer set the world record of 25 top-level wins in 2003. He died six years later, and the legendary unbeaten racehorse Frankel was named after him
Aidan O'Brien: Irish trainer's previous best Group One tally was 23 in 2001 and 2008, before he set the record of 26
For all involved at Coolmore, it is the stuff of dreams, but for Flat racing as a whole it does present a bit of a nightmare to which there is no obvious solution.
Just as with Michael Schumacher's domination of Formula 1 in the early years of this century, or that of golfer Tiger Woods during his golden period, it is in danger of getting a tiny bit repetitive. Even boring.
Clearly, it is not Coolmore's or O'Brien's fault that they are so good, but for those trying to sell a sport to a wider public, a bit more competition is obviously desirable.
And though others - in particular, trainers John Gosden and Sir Michael Stoute, and also Sheikh Mohammed's Godolphin string - are doing their best, all are facing an uphill struggle.
Just look at the Group One Dewhurst Stakes, traditionally Europe's top race for two-year-olds. The Coolmore-O'Brien axis supplied four of the nine runners and the quartet filled the first four places - a historic achievement.
However, it's not all doom and gloom for their opponents.
The Gosden stable has two three-year-old stars of 2017 - Enable and Cracksman - staying in training next year.
They, and the decision by Godolphin to invest in the progeny of Coolmore's ever-potent stallions after something of a 'cold war' might mean things get spread around a bit more.
Those who promote Flat racing will be hoping so…from Goodwood to Gowran.