Breeders' Cup: Rookie trainer George Scott's high hopes for James Garfield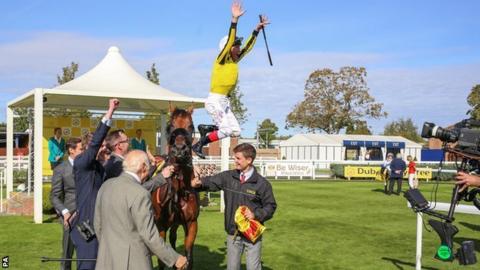 Breeders' Cup
Location: Del Mar, California Date: 3-4 Nov
A year ago, if you'd asked rookie trainer George Scott about James Garfield, he'd have probably given you something of a blank look.
Wind on 12 months, and the 29-year-old, just ending his second full season with a training licence, will give you chapter and verse.
Not however on the 20th US President, James A Garfield, who was elected to the White House in 1881 only to be assassinated a few months later.
No, Scott remains a little hazy on details of that one, but on the subject of the two-year-old colt James Garfield, 'commander-in-chief' of his 30-horse string based at Newmarket, it's a very different matter.
"I liked my history at school," he said. "But lessons about President Garfield maybe came on a day I was busy thinking about going to work in racing.
"But I can certainly tell you that our James Garfield is awesome, an absolute legend, who's had a great year.
"Bill Gredley, his owner and breeder, has had plenty of horses, and loves history and the arts, so uses those interests to find some good names.
"When he told me this name, I must admit I did get the laptop straight out to google him."
Breeders' Cup Juvenile Turf
The Thoroughbred race is restricted to two-year-old male horses
Run on a grass course at a distance of one mile
Frankie Dettori has won the race in 2008, 2009 and 2014
Now, after finishing in the frame in significant prizes at Royal Ascot, Glorious Goodwood and York's Ebor Festival, and gaining a much-deserved win in September's Mill Reef Stakes at Newbury, the colt heads to the Breeders' Cup's $1m Juvenile Turf race.
Operating since 1984 at tracks around North America, the fixture, now staged over two days, is US flat racing's self-styled World Championships.
Having a horse for such an event so early in his training career is quite something for Scott, but the story doesn't end there, because Gredley isn't simply James Garfield's owner.
The multi-millionaire businessman, who shares ownership of a string of horses - including the mighty Gold Cup winner Big Orange - with his son Tim, is also the trainer's father-in-law.
Just a week before the course record-breaking Newbury success - ridden by Frankie Dettori - Scott married Polly Gredley, and returned from their short honeymoon in Majorca for the race.
It was a favourable early impression with his 'new family', although the first-ever contact was all rather different.
"Frankie is a good friend of mine, and also of Tim Gredley's, and when I was in America, and Tim was out there showjumping, Frankie messaged him," said Scott.
"He said 'My mate George is coming over - look after him', and Tim texted straight back 'I'm not a bloody babysitter, you know'.
"But we got on really well, which makes this whole thing so brilliant. We've had some wicked days out, and it's been a real treat for everyone."
Scott believes he was always destined to work in racing; his great-grandfather was a trainer, and grandfather a race-starter at the time when stalls were being introduced.
After school, he joined champion jumps trainer Paul Nicholls' team, and was mucking out stables there when Denman beat Kauto Star in the 2008 Cheltenham Gold Cup.
Spells followed with trainers Mark Tompkins and Michael Bell at Newmarket, and Eddie Kenneally and Simon Callaghan in the US, before he returned to be right-hand man to Jane Cecil after the death of her husband Sir Henry.
At the end of 2015, Scott went it alone, and a year later, already seeing Polly, an offer of support came from Gredley.
The fledgling trainer was informed he could take charge of a bay-coloured son of the stallion Exceed And Excel - bred by the Gredleys at their Stetchworth and Middle Park Studs - unless he was sold at auction at Doncaster Sales first.
"They put a very sensible reserve on him, and luckily for me he was disregarded," recalled Scott.
"Unlike the powerful horse you see now, with enough speed to be the fastest two-year-old to win a race at Newbury, he was a bit of a weedy teenager.
"He looked like a fallow deer to be honest, with a small head and eyes - he was a late maturer, but look where we are today."
Now the Juvenile Turf race around the bends of the track at Del Mar, California, awaits James Garfield.
The tight course and the mile-distance - further than any race in which he's competed before - doesn't sound ideal to everybody, even with in-form Dettori again riding.
Yet Scott is packing his bags with optimism.
"He's very balanced which is good," he said. "And, yes, he shows so much speed, but he 'got' the seven furlongs on very soft going at York, which is a stiff track and must have felt like a mile.
"And Frankie says the ideal horse for the race has a lot of speed because they'll go very fast; he's won it three times, so that'll do for me."
It is said that in America, President James Garfield is only really known for the manner of his death; perhaps, in one of corner of California anyway, his name will mean something else on November 3.