Gay Kelleway: BHA to contact trainer over her sexual harassment & bullying claims
Last updated on .From the section Horse Racing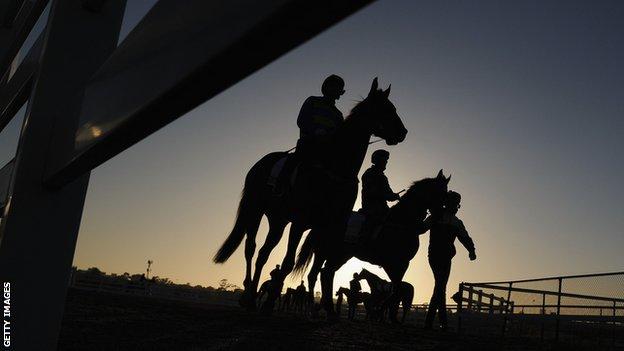 A female trainer who has made allegations of sexual harassment and bullying will be contacted by the British Horseracing Authority.
Gay Kelleway told the Daily Mirror she was pinned against the wall by a fellow jockey in the presence of horse racing officials.
The 53-year-old also alleged that she was continually harassed during her time as a jockey and as a trainer.
A BHA statement said it is taking the allegations "extremely seriously".
It added: "We are working with all partners in our sport to ensure people are treated with respect. We are contacting the trainer concerned to seek further details."
Kelleway became the first female jockey to win a race at Royal Ascot when she claimed victory on Sprowston Boy in 1987.
She told the Mirror: "What I went through would be enough to push someone, especially fragile girls, to suicide."
Who is Gay Kelleway?
BBC racing correspondent Cornelius Lysaght
The daughter of Paul Kelleway - a successful National Hunt jockey of the 1960s and 70s - she is one of British racing's best known female figures.
In 1987, she became the only female jockey to win a race at Royal Ascot and then received her first training licence in 1992.
Now based at Queen Alexandra stables in the village of Exning, outside Newmarket, Kelleway is colourful, outspoken and successful, winning around 600 races in the past 25 years.