Josephine Gordon becomes second female jockey to ride 100 winners in a year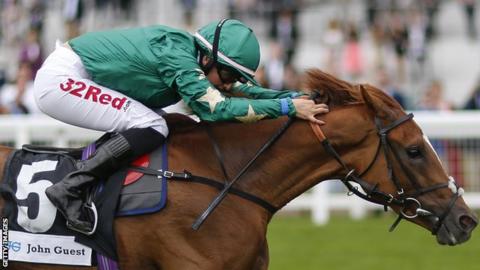 Josephine Gordon has become only the second female jockey to ride 100 winners in a year in Britain after guiding Thunderbolt Rocks to victory at Wolverhampton on Saturday.
Gordon, 24, won on the 10-1 shot for Newmarket trainer Hugo Palmer, and follows Hayley Turner to the landmark.
Gordon took the victory ahead of Dance Me (9-1), ridden by Mitch Godwin, and Island Court (50-1), ridden by Tom Marquand.
Turner reached her century in 2008.
Gordon reached 99 wins eight days ago at Chelmsford but needed a further 20 races to reach the milestone.
"In 2008 when Hayley got 100 winners I was sat in school and looking up to Hayley thinking: 'Wow that's amazing'. I would never have expected for myself to then go on and hit those heights," she said.
"Hayley was my idol when I was a kid so I'm very happy to emulate her and reach these goals that I've set myself."
After the race, Palmer tweeted his congratulations to Gordon, writing: "Thunderbolt Rocks becomes a landmark horse. 75 winners for 2017, our best yet, and more importantly 100 for Josephine Gordon. A huge effort all round."