Hughie Morrison: Trainer 'not to blame' in doping case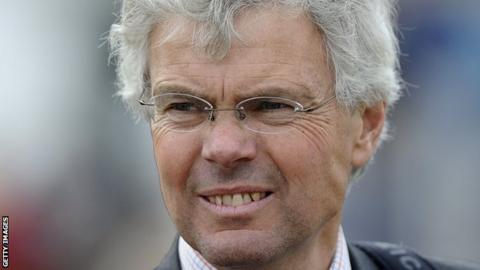 Trainer Hughie Morrison has been fined the minimum £1,000 and found not to blame after Our Little Sister tested positive for an anabolic steroid.
Morrison, who could have lost his licence, had claimed he was "totally innocent" and did not know who had administered the drug to his horse.
"We're obviously over the moon," said Morrison, 57.
"We've been completely exonerated so the hell of the last 11 months can be forgotten."
The British Horseracing Authority (BHA), which brought the case to an independent panel, stressed that Morrison had admitted being in the wrong.
"It is important that the trainer in this case has accepted he was in breach of the rules of racing, and that the disciplinary panel has confirmed that, as the responsible person, Mr Morrison is in breach of the Rules," it said in a statement.
Morrison had offered a £10,000 reward to anyone who could help prove his innocence in the wake of Our Little Sister testing positive for nandrolone after finishing last in a race at Wolverhampton on 14 January.
The race had prize money of £2,500.
Morrison, who has saddled 43 winners this season, had claimed it would have been "professional suicide" for him to deliberately dope a horse which has since retired with no wins from nine outings.
Morrison had feared for the future of his East Ilsley yard, which employs 25 full-time staff.
"All my staff are having a celebration now and it's very emotional," he added.
Analysis
BBC racing correspondent Cornelius Lysaght
Again, one of the BHA's new-look independent disciplinary panels has shown its independent-mindedness.
The penalty for steroids was tightened after the 2013 case of Godolphin trainer Mahmood Al Zarooni, to a ban of one to 10 years.
Considering that, plus the BHA's principle of 'strict liability' for trainers and any positive tests, a suspension could have been anticipated even though it was accepted the trainer didn't do anything.
Yet instead, the panel uses its discretion to impose a fine, and it was only really a token fine. For the second time in a month, a judgment suggests 'strict liability' is unreasonable.
And, of course, we still don't know who - to use an expression from the hearing - "pressed the plunger" of nandrolone.