Tom Bellamy: Alcohol breath test failure sees jockey suspended at Cheltenham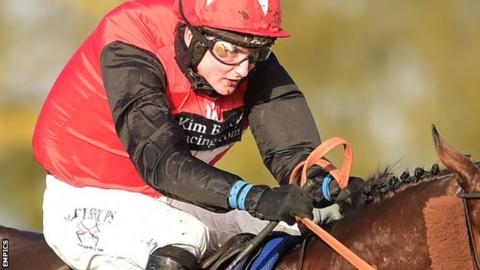 Jockey Tom Bellamy failed a breath test and was suspended from New Year's Day's racing at Cheltenham as his alcohol level was above the allowed threshold.
The Gloucestershire rider, 23, had been set to ride trainer Nigel Twiston-Davies' Ballymalin and Splash Of Ginge.
The matter has been referred to the British Horseracing Authority.
"I'm devastated for him. He had two drinks all night. I definitely don't blame him. He's just unlucky," Twiston-Davies told BBC Radio Gloucestershire.
"His last drink was before 12 (on New Year's Eve). It's a third of the drink drive limit, so half a pint will put you over.
"If you're a big boy, you can't eat. He'll never have a drink now, I don't suppose. The punishment is enough."
BHA rules allow for "sampling" to be "carried out at any time on a racecourse and off-course in certain circumstances".
However, testing is conducted on a "non-selective basis", with every rider required to provide a breath sample.
The official stewards' report said: "Tom Bellamy provided a sample which was found to contain alcohol above the threshold level for breath samples.
"The rider, the clerk of the scales and the sampling officer were interviewed."