James Bowen: Wales' teenage National winning jockey sets sights high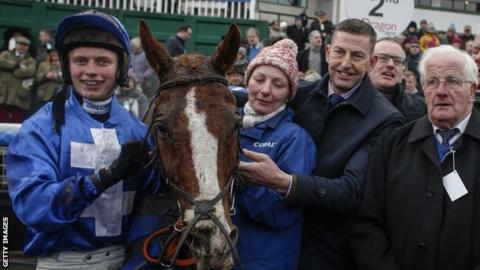 Welsh jockey James Bowen is aiming for the top after becoming the youngest winner of the Welsh Grand National.
The 16-year-old from Pembrokeshire steered 16-1 outsider Raz De Maree to victory at Chepstow.
He is the son of trainer Peter Bowen and younger brother of successful national hunt jockey Sean Bowen.
"Hopefully just keep riding the winners and getting on the right horses like we did on Saturday," he told BBC Radio Wales' Good Morning Wales programme.
"I hope to just keep improving and hopefully I can get towards the top as we go on."
Bowen stayed calm as his ride trailed in the early stages of the race, then guided the 13-year-old through the field to win the postponed Chepstow showpiece race.
"He didn't really take me anywhere early on, they were going a good clip he didn't really have the early speed," Bowen added.
"But towards the end they were all coming back and getting a bit tired and he started going through them and past them and he started to enjoy it then and he went on to win it well in the end."
Father Peter said his sons were "sitting on horses before they could walk," but James said he never felt under any pressure to become a jockey.
"I was never got forced into it, not at all, by my parents and I wouldn't think I really started riding properly until I was eight because I wasn't really interested," he added.
"I got into it myself really. My parents have brought me up to ride horses but we were never pressured into it."
But his ability became clear when he qualified for a licence to ride in point-to-point races at the age of 16.
Within three months he had set a record for winners with Saturday's victory in the Welsh National further enhancing his reputation.
He paid tribute to his family and to brother Sean who in 2015 became the first 17-year-old to win jump racing's apprentice jockey title - known as the Conditional Championship.
"There's not a whole lot of rivalry," James Bowen explained.
"We're definitely competitive, but we help each other our more than anything and it's great to have a brother like Sean who can guide you a bit and give you the right instructions."
Analysis
BBC horse racing correspondent Cornelius Lysaght
James Bowen, a product of the rich heritage of pony racing in Wales, already has a long list of admirers who believe he has what it takes to get to the top.
And less than a year after gaining his first win in a point-to-point, the teenager has only underlined that thought with a cool ride to win on old Raz De Maree.
He had to sit tight when the horse, the 2016 runner-up, was impeded by a faller at the first fence, and then galvanise him into throwing down a challenge from the fourth last which soon proved decisive.