George Chaloner: Former jockey on falls, flashbacks, PTSD and his second career
Last updated on .From the section Horse Racing

"I have 27 screws inside me. I'd be worth a fortune in scrap metal."
George Chaloner is talking about the toll of injuries that led to post-traumatic stress disorder and ended his career as a jockey aged just 25.
He is calm, matter of fact, showing a maturity that belies his years and helped him recover from a world of nightmares to a renewed love of horse racing.
Here, the Royal Ascot-winning rider outlines how he moved on after three heavy falls in less than three years shattered his body and resolve.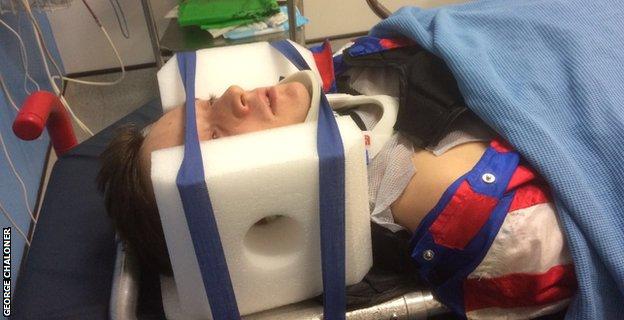 'Hospital thought I was stag do drunk'
Chaloner was riding high in 2014. In one week, he won a race at Royal Ascot, then the Northumberland Plate at Newcastle.
But, the following year, the jockey broke his foot when a horse stood on his ankle after a fall on the gallops, and in 2016 he was thrown to the ground after his mount broke down at Wolverhampton.
"We were doing 40-45mph turning in, and I was sent into the sand. I got knocked out, broke my shoulder, which is completely all metal now, and ended up in hospital," he tells BBC Sport.
"Unfortunately, as it was a Friday night and it was the last race at 9pm, the staff thought I was dressed as a jockey on a stag do, and thought I was intoxicated. I was talking absolute rubbish because I had been knocked out.
"They left me on a spinal ward in a corridor for an hour and a half to sober up. Luckily enough my mother and father were soon there and the staff realised I had been riding. I laugh about it now, but it was scary."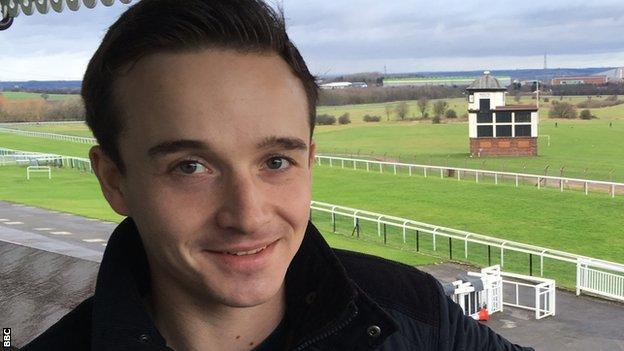 After four months out to recover, Chaloner returned at Newcastle on 1 February, 2017 - full of hope and on a horse he had partnered numerous times before.
"It was a perfect first ride back, but he broke his leg and again I came off and hit the sand. This time I ended up breaking my back and my left foot," says Chaloner, who is based in the North Yorkshire racing heartland of Malton.
"As time went on we realised I'd actually fractured my back from Wolverhampton, so I returned to riding with a fractured back and then broke my back at the same time. Apparently I was half a centimetre away from being paralysed."
Flashbacks and a career finished
As he recovered in hospital with a broken T8 vertebra, Chaloner realised his promising riding career was over.
"I think someone was trying to tell me something, I realised the severity of the injuries. It really hit home," he says.
"The doctors said if I took one more fall off a horse, I'd be in a wheelchair. I felt lucky on the ward I was on - there were fellas there who weren't going to walk again, who weren't going to use their arms again.
"I'm walking, talking, I can take my dogs out, but it stopped my career, it stopped the only thing I ever knew."
He suffered harrowing flashbacks for several months.
"I'd be falling asleep and I'd just remember falling off the horse, hitting the deck, and waking up," he says.
"I can't remember getting on the horse, riding the race. All I remember is the falling part which is probably the worst bit."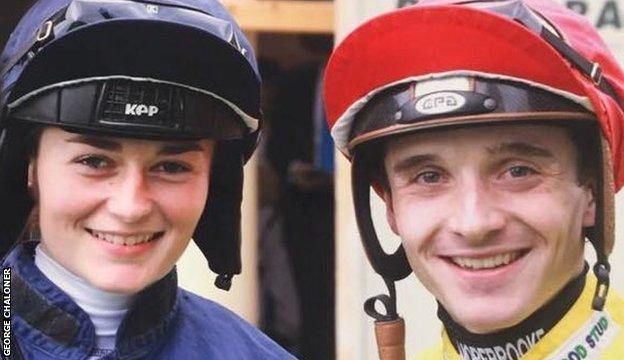 'I couldn't watch racing'
Hailing from a racing family, he grew up around ponies and left school at 16 to become a jockey, but he was unable to even bring himself to watch the sport he loves.
"Watching racing, being involved in racing, I wanted to step back. In my head I didn't know if I was coming or going," he remembers.
"My partner Shelley Birkett is a jockey and I couldn't watch her for months after the accident, nor could I watch anybody ride.
"I'd get the written commentary on the Racing Post app on my phone. If I got the results, saw she got round OK, I was happy. She'd tell me what had gone on.
"Shelley has been a rock to me. I've been up and down since my fall and without the support of her, my family and the racing organisations I'd be lost.
"I always thought I would be a jockey and I'd be doing do that for as long as I could. As a flat jockey, you can go on to 50.
"Riding for me was doing a job that wasn't a job. It was a way of life. I really enjoyed it - and it was a shock that it had to be cut short."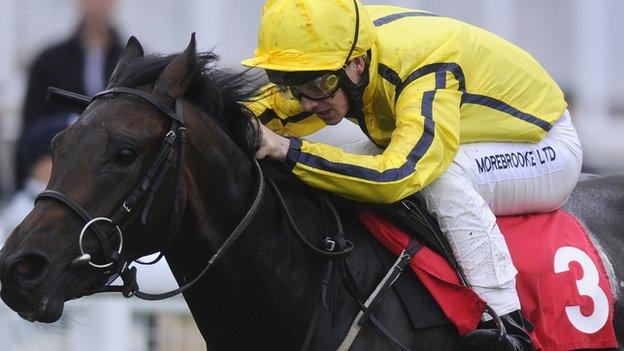 Making a fresh start
Chaloner benefited from the help of three organisations - physical rehabilitation through the Injured Jockeys' Fund (IJF), sessions with a psychologist organised by the Professional Jockeys' Association (PJA) and help with a new career from the Jockeys' Education and Training Scheme.
"The support jockeys have is unreal. I started going for rehab at the IJF's Jack Berry House and I was their best customer. I joked they should have named a wing after me because I'd been there since it opened," he laughs.
"I was diagnosed with post-traumatic stress disorder at the back end of last year. The PJA and IJF sorted out a psychologist that I see every two weeks. Because I never used to talk to anyone about my emotions, I feel a lot better about myself. A lot of lads bottle stuff up, and I think that's what I did."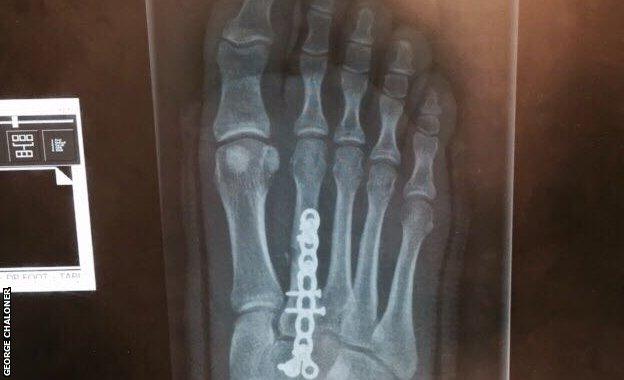 He adds: "Physically, I'd be worth a fortune in scrap metal. I have a plate in my ankle. Both feet and my shoulder have metalwork in them. I have 27 screws inside me.
"When you're riding, you think you're invincible. You just think you are going to carry on because it is the best way of life there is. You're doing something you enjoy and getting paid for it."
Chaloner had never thought about a second career, but faced retirement aged 25.
"Once I got told I wasn't going to ride again, I had to plan. I started doing a typing course when I was in hospital," he says.
He went on to shadow racecourse starters and stipendiary stewards, spent time behind the scenes at York racecourse and helped trainer Malcolm Jefferson on the gallops.
Now he has started a new role as management assistant at Pontefract racecourse and paid tribute to Jefferson, who died on Friday aged 71.
"Malcolm Jefferson was more than just a boss, but a true friend. I owe everything to this man as without him I wouldn't have had a successful riding career nor become the man I am today," he said.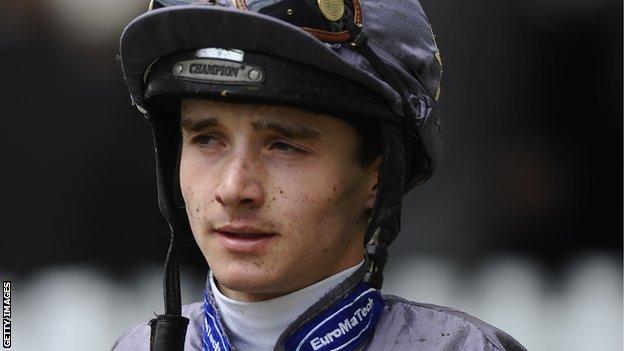 More nerve-wracking than Ascot
Winning in front of 70,000 racegoers at Royal Ascot was a career highlight for Chaloner - victory on Baccarat in the Wokingham Handicap followed days later by landing the Northumberland Plate with Angel Gabrial.
But, after announcing his retirement from riding in November 2017, trying to secure a new job brought different pressures.
"I'd never had a job interview before. I was absolutely bricking it going in. Ascot's a big stage, but that was probably the scariest experience I've had," he said.
"Once you're on a horse, you know what you've got to do. Now I have to talk to sponsors, trainers, owners, jockeys, everybody associated with the racecourse.
"I've never had a proper job. I've even got myself a Parker pen so even if I don't know what's going on, I'll look the part."
Pontefract assistant manager Richard Hamill said his "fresh attitude" would be a welcome addition to the team.
"It might take him a bit of time to get used to it but it should be an interesting transition and I have every confidence he's going to have a great career with us," said Hammill.
"At interview George was very honest. The injuries he has suffered are horrific and I wouldn't wish them on anyone, but we feel lucky we can offer him a second chance. He's an ambassador and a role model."
Changes since retirement from riding
No longer needing to watch his weight, Chaloner - who is 5ft 5in tall - has put on two stone, rising from 8st 4lb to 10st 4lb
He's had to buy a new suit - going from a 26-inch waist to a 30
With premiums high for athletes in risky sports, his car insurance has gone down from around £1,500 to £400 annually.
Chaloner has put on weight and cut down on travelling - he was clocking up about 70,000 miles a year travelling between courses.
"I would take off at least four or five pounds in weight before going out to ride through sweatsuits or the sauna," he said.
"I miss the craic with the lads. You see them every day, day in day out, you travel up and down the country with them. They're family."
However, he is looking forward to his new job and has some sage advice for other young athletes.
"I'd be thinking about life after retirement as soon as you start your sporting career," he says.
"You never know what's round the corner. I'm lucky enough to stay in the industry I love - there's other things to riding horses."