Sandown: Amputee jockey Guy Disney takes victory in Royal Artillery Gold Cup
Last updated on .From the section Horse Racing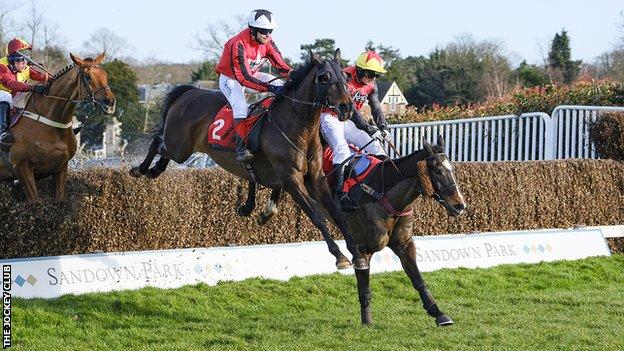 Amputee jockey Guy Disney recorded back-to-back successes in jump racing's Royal Artillery Gold Cup at Sandown.
The 35-year-old former soldier and army captain became the first amputee jockey to win at a professional racecourse in Britain last year.
This year he rode 9-4 favourite Rathlin Rose beating Midnight Monty and Renard.
Disney rides with a prosthetic lower right leg after being struck by a rocket-propelled grenade while serving in the army in Afghanistan in 2009.
He is now looking to return to Sandown on 9 March to defend the Grand Military Gold Cup, which he and Rathlin Rose also won last year.
He said afterwards: "It is massive. The trouble is you can't keep the feeling once you have won. Last time feels like a long time ago. I want to win the next time. I would like to come here in March and win the race again.
"There is no point celebrating winning the race a year ago, it is about enjoying now and trying to have another winner the next time and hopefully here again in March."