Musselburgh future remains in doubt following council vote
By David Currie
BBC Scotland
Last updated on .From the section Horse Racing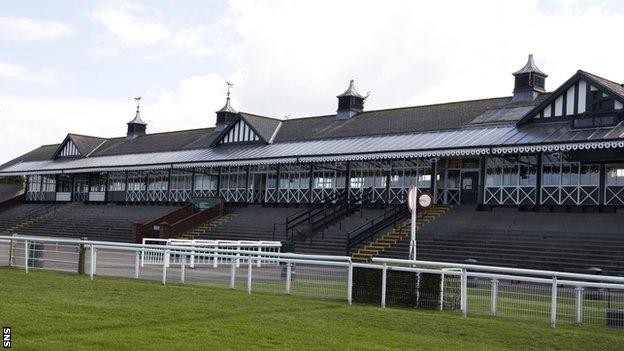 Musselburgh Racecourse's long-term future remains in doubt with one of the groups on its management committee threatening to take legal action against the other.
Racecourse staff are also said to be considering taking industrial action.
It follows a move by East Lothian Council to change the power balance on the Musselburgh Joint Racing Committee.
There are four councillors on the MJRC and three members of the Lothian Racing Syndicate [LRS].
The council has voted to reduce the LRS representation on the committee to two.
East Lothian Council say this is in accordance with the findings of a governance review demanded by the British Horseracing Authority, who threatened to withhold Musselburgh's licence to race unless a review was carried out into future management of the course. Musselburgh's temporary licence expires in early April.
"It is clear that the current governance arrangements cannot continue," said East Lothian Councillor Fiona O'Donnell.
"An independent governance review was undertaken as a licence requirement of the BHA and I am pleased that the council has unanimously agreed to implement the required changes.
"The council has done all it can to work constructively with the LRS and I have personally met and updated racecourse employees, who are its greatest asset, throughout this difficult process."
However John Prideaux, chairman of the LRS, which leases the course from its owners, the council, was critical of the outcome of the council's vote.
"Today's decision by East Lothian Council has ridden roughshod over legally binding provisions contained in a Minute of Agreement concerning the management of Musselburgh Racecourse," he said.
"This Minute of Agreement remains in force and cannot be altered without the approval of both parties of the Musselburgh Joint Racing Committee, that is East Lothian Council and the Lothians Racing Syndicate, but the council have ignored this important fact because it does not fit with their desire to assume overall control of the racecourse.''
East Lothian Council also want to the racecourse's 15 staff to become council employees under TUPE regulations - the Transfer of Undertakings (Protection of Employment) Regulations 1981 - that protect their existing terms of employment.
According to a spokesman for LRS, the staff are consulting their union and may consider industrial action.