Joseph O'Brien targets Cheltenham Gold Cup with 'miracle horse' Edwulf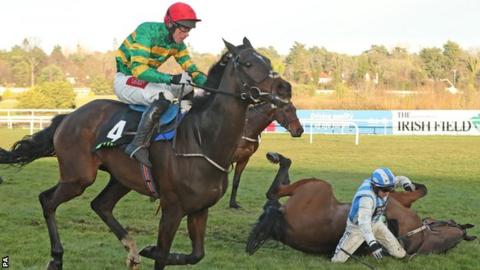 Cheltenham Festival
Venue: Cheltenham Racecourse Date: 13-16 March
Coverage: Full coverage on BBC Radio 5 live; continued on BBC Radio 5 live sports extra; live text updates on BBC Sport website
What an extraordinary start.
Trainer Joseph O'Brien, only 24-years-old, and with a Classic-winning jockey's career behind him, has, within two years of saddling his first runners, won Australia's greatest horse-race, the Melbourne Cup, bagged two Grade One national hunt prizes and gathered together one of the biggest strings in Ireland.
Now, the son of record-breaking champion-trainer Aidan is turning the sights of his burgeoning operation towards jump racing's premier target - the Cheltenham Gold Cup.
Edwulf, the "miracle horse" who it was feared would die after collapsing in the National Hunt Chase at Cheltenham's 2017 Festival, is set to make a return visit this week.
Recalling the 2017 race, O'Brien says: "He was going well and jumped the second-last, and looked like he was going to be second. He jumped the last, and he went wrong.
"He basically ran out of oxygen, but his heart kept his vital organs going. He was down for an hour or something, but the vets were brilliant, and he came round.
"I think he was blind for a time - it's quite unbelievable that he could come back, and it's a testament to the horse and his attitude."
After a series of tests, the O'Brien team and owner JP McManus were assured that the occurrence was no more likely to happen again to the nine-year-old as it might to any other horse.
Therefore, emotions ran high when Edwulf earned his place against Might Bite, Native River and co at Cheltenham with a stirring 33-1 success in the Grade One Irish Gold Cup at Leopardstown in February.
In what's considered by many to be an open year, his trainer believes the former point-to-pointer, a 20-1 shot, is "well entitled to take his chance".
He adds: "You only have to look back at the Gold Cups of the last 10 or 12 years and look at what you expected to happen, and what happened."
Edwulf heads a challenge of around six Cheltenham Festival runners from O'Brien's Carriganog Racing, a stable that boasts a mix of no fewer than 150 jumpers and flat horses - Latrobe received particular mention for the upcoming flat season.
We are speaking on the edge of the steep gallop at the hillside base in County Kilkenny originally developed by O'Brien's grandfather Joe Crowley, and where Aidan O'Brien and his wife, Crowley's daughter Annemarie, cut their training teeth.
The current occupant, who rode the winner of the Epsom Derby twice before weight issues could not be held at bay any longer, was a baby when his parents moved to the Coolmore racing empire at Ballydoyle stables.
He's also too young to remember his father's own Cheltenham Festival glories with three-time champion hurdler Istabraq (1998-2000), but does recall always planning to train.
Whereas many jockeys speak of having to tear themselves away from race-riding, he insists he doesn't miss it a bit, and is content to just ride out on the gallops on Sundays.
His father remains an influence and source of advice, so the fact that Joseph O'Brien's Melbourne Cup winner Rekindling defeated Johannes Vermeer, a horse trained at Ballydoyle, was a not inconsiderable irony.
And that, it turns out, is not the only occasion of late that son has beaten father.
"We played Ballydoyle at football," he says. "And can you guess the score? Seven-one to the 'Boys on the Hill'.
"I scored one, but I would be an average [player]. I think I maybe sneak on the team because of my position.
"Dad was the ref, and he literally only blew the whistle twice at half-time and full-time, and he kept telling the lads to go in harder."
That whole story was told punctuated by giggles and the broadest of grins, dispelling the thought with that with dozens of horses under his care and big targets at which to take aim, perhaps being an "ordinary" young guy isn't possible.
Extraordinary more like - like his fledgling career and like Edwulf, his first Cheltenham Gold Cup challenger.