Faugheen vet Tim Brennan charged with passing on inside information
Last updated on .From the section Horse Racing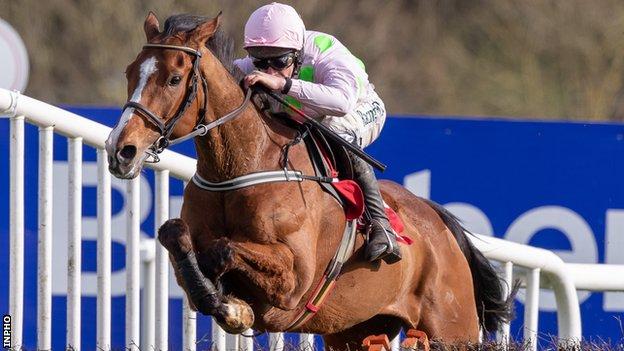 A leading Irish vet has been accused of passing on inside information before top hurdler Faugheen's withdrawal from the 2016 Cheltenham Festival.
Tim Brennan, who is alleged to have conspired with his brother Michael, has been charged by the British Horseracing Authority (BHA) and could face a ban.
Michael is alleged to have placed 'lay bets' against the horse for the Champion Hurdle at Cheltenham.
Faugheen's trainer Willie Mullins is not accused of any wrongdoing.
Tim Brennan issued a statement in which he said the allegations were based on "extraordinarily tenuous evidence".
"The BHA is aware that I have denied all wrongdoing and will vigorously contest these unfounded allegations," he said,
"In such circumstances, I would have thought that the principals of natural justice would dictate that no publication occur prior to the final determination by the disciplinary panel."
Faugheen, nicknamed 'The Machine', won the Champion Hurdle in March 2015 but was ruled out of a title defence the following February with a leg injury.
A disciplinary panel will consider the case on 16 and 17 July.
Vet's brother barred from racecourses
Michael Brennan has refused to cooperate with the BHA's investigation and was excluded from the sport in October 2016, meaning he is barred from entering racecourses or racing stables.
"This failure to comply has resulted in the investigation process taking longer than it otherwise would have done," said BHA chief regulatory officer Brant Dunshea.
"However, it has ultimately not prevented us from bringing charges and has also seen the individual ejected from the sport in Britain."
The hearing will assess whether or not Tim Brennan passed on information "which might be used to gain an unfair advantage in the betting market intending to make a gain for himself or another and/or to cause loss to another".
The panel will also consider whether or not Tim Brennan "enabled and/or assisted Michael Brennan to cheat at gambling in relation to the 2016 Cheltenham Champion Hurdle".
If found guilty of an offence, Tim Brennan could be disqualified from the sport for between six months to 10 years. The BHA would ask for any penalty to be reciprocated in Ireland.
But he said: "I reiterate that I have and will continue to deny these allegations vigorously and will clear my name before the disciplinary panel when it meets in July 2018.
"Everyone who knows me is aware that I don't gamble or give information to those who do."