Mark Johnston: I've always wanted to achieve more, says record-breaking trainer

By Cornelius Lysaght
BBC horse racing correspondent
Last updated on .From the section Horse Racing
When Mark Johnston trained his first winner in July 1987 he and his wife Deirdre left the results page from the BBC's old Ceefax text service on their television all night to look at every time they woke up.
Thirty-one years on, it would take a lot of TV screens to keep up with Johnston's racing exploits.
That initial success, by Hinari Video at Carlisle, turned out to be the foundation of the most prolific training operation in British racing history.
Now he has passed the record of 4,193 winners trained by Richard Hannon Sr before his retirement in 2013.
The story of how Johnson, a Scotland-born vet who started with a handful of horses prepared on gallops shared with an RAF bombing-practice range on the Lincolnshire coast, has risen to the sport's summit is one of racing's most remarkable.
Today, the principal aircraft in his life is the one he often pilots himself while juggling a hectic schedule jetting from track to track with supervising a string of 240-plus at state-of-the-art Kingsley Park in the Middleham racing centre in North Yorkshire.
"If you'd told me when we started that we'd get to here, I don't suppose I'd have believed it," Johnson told BBC Sport.
"I do remember being asked about training Classic winners, and me saying that of course I was dreaming of training Classic winners.
"But when we moved to Middleham, I only built 42 boxes, and it never really occurred to me then that I'd want more. I look back now and think, how stupid was I?
"I was never content with what we had. I'm still not content with what we've got or what we're doing. I've always wanted to achieve more."
Leading all-time British trainers
4,194:
Mark Johnston;
4,193:
Richard Hannon Sr;
4,183
: Martin Pipe
Pinpointing exactly when Johnston's career began to take off is debateable - I was commissioned to do a feature for BBC radio in early 1993 about a 'new force' emerging at Middleham - and Johnston himself nominates success with Quick Ransom in the Ebor Handicap at York the previous August as a seminal result.
Although his team - the horses are renowned for their hardiness and enthusiastic style of racing - has always been well known for quantity, there is still been much quality.
That includes Classic victories with Mister Baileys and Attraction, and a heap of prizes at Flat racing's important Royal Ascot, York and Glorious Goodwood festivals, notably a record three Goodwood Cups with Double Trigger.
Kingsley Park was home for the first season of some of Sheikh Mohammed's biggest-name Godolphin runners - subsequent dual French Classic winner Shamardal particularly stands out.
However, with the champion trainer's title judged on prize money, Johnston has never gained that accolade.
He said: "It's right the trainer's championship is decided on prize money, despite the fact I would have been 12-time champion on number of winners.
"But while I've never argued with the quality over quantity argument, I still think quantity is vitally important - every one of my owners first and foremost wants winners.
"And the most important thing which I'm very proud of is our consistency. When we have 20 runners and no winners, people start saying we're having a bad run.
"The reality is that we've been the most consistent yard in the country, and that's why we've passed everyone else."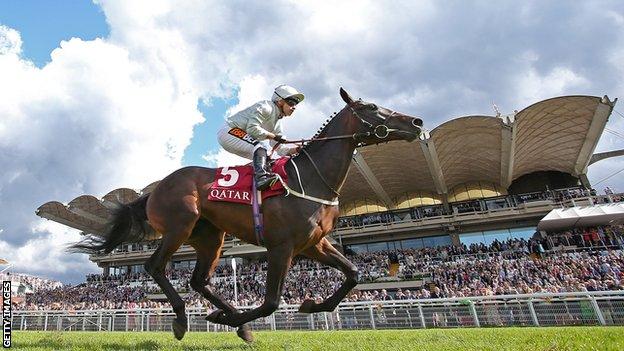 Johnston - still assisted by Deidre but with their son Charlie, 27, another vet, now alongside too - is much more than a racehorse trainer.
He has been a director of the British Horseracing Authority and of Scotland's Hamilton Park racecourse, is a trustee of the charitable Racing Foundation and a noted commentator on all matters racing.
His views are famously forthright, earning him the nickname 'Braveheart', as in Scottish firebrand William Wallace, in some quarters.
Those opinions have sometimes meant he has not been everyone's cup of tea - the sense of the stable's motto 'Always Trying' has been known to be twisted - but equally there is little doubting that the man himself could not care less.
A single minded self-belief has long been his trademark.
But for how long? Now 58, he would unquestionably relish more major trophies - 'Yorkshire's Classic', the St Leger at Doncaster, for one - but eventually the reins will be handed over to Charlie.
"That's when I'd like to bow out, in time for him to be able to beat it, but nobody else," Johnson said.
A version of this article was first published on 5 August 2018.