Mark Johnston: Trainer breaks British record as Poet's Society wins at York
Last updated on .From the section Horse Racing
Mark Johnston has broken the all-time record number of British winners for a racehorse trainer.
Poet's Society - ridden by Frankie Dettori - won a handicap race at York to give the Scot his 4,194th victory.
The 20-1 shot took Johnston, 58, past the mark set by Richard Hannon Sr, who retired in 2013.
Johnston, who is based in the Yorkshire village of Middleham, trained his first winner in 1987 and his victories have earned £53m in prize money.
He saddled nine runners without a winner in pursuit of the record on Wednesday but Poet's Society obliged as one of two Johnston runners in the Clipper Logistics Handicap.
The gelding held off 5-1 joint-favourite Kynren to win by a neck.
"It was getting very frustrating, the tension on it," Johnston told BBC Sport. "We had plenty of horses running well on the last few days but I think it took quite a while to get the last four and then the last one.
"This horse epitomises what we are all about. I think it was his 26th run of this year and it's great it has happened with a horse like this.
"It feels a relief to get it out of the way. Sometimes you wonder how important it is. I have got to pinch myself to think we got to 4,194. From where we started it is unthinkable."
In his own words - Johnston's pick of the bunch
Horse I'm most proud of:
"Attraction, she did more for us than any other horse. She won five Group 1s and I suppose her 1,000 Guineas at Newmarket was an incredible race and the culmination of a lot of heartache and worry during that winter.There were so many down times in her career, to win five Group 1s with the injuries she had - injuries that would have ended other horses - nothing was going to end her career."
Most talented horse:
"I never thought I'd have another one as good as Attraction but then I had Shamardal for one season and three starts. Four Group 1 wins, he's the best I have ever had."
A trained vet, Johnston started out with a handful of horses and now has 220.
He says his first win at Carlisle racecourse with Hinari Video in 1987 saw him simply stare at the result on teletext all evening.
Now, assisted at his yard by wife Deirdre and son Charlie, he says his aim is to "look for more records to break".
"You never go on forever," he added. "People keep saying Charlie is ready and life has never been easier for me with Charlie taking so much pressure off. Clearly he will take over one day but in his own mind I don't think he's ready to and I don't think I am yet."
Johnston's victories include 43 at Royal Ascot and two British Classic triumphs - the 1,000 Guineas winner Attraction in 2004, and Mister Baileys in the 2,000 Guineas 10 years earlier.

Analysis - 'One of the great racing stories'
Cornelius Lysaght, BBC horse racing correspondent
Whoever you are - Manchester City, Sachin Tendulkar, Andy Murray - reaching these kinds of milestones is of course important and worthy of very high praise indeed, but what's so striking about Mark Johnston is how it came from pretty much nowhere.
He may have been born with the clear thinking and single-minded determination for which he's famous, but there was no real horsey connection at all.
And the way he has climbed from the most unpromising of starts, with a handful of moderate horses and plenty of debt, to the very summit where he now stands, is one of the great racing stories.

'I admire him very much' - Pipe
Leading all-time British trainers
4,194:
Mark Johnston;
4,193:
Richard Hannon Sr;
4,183:
Martin Pipe
Martin Pipe, former record-breaking trainer:
It's a marvellous achievement and I'm delighted for him. I read the other day that I was his inspiration, which is nice.
He's obviously a brilliant trainer. It takes a lot of dedication and preparation and he has a wonderful team behind him.
It's a wonderful achievement and I admire him very much.
Johnston's stable jockey Joe Fanning:
In 1994/95 I went to ride out for Mark and it just took off and I've been riding for him ever since. I've been there that long on a full-time basis - 23 years!
He's always got bigger and bigger and ever since he bought Park Farm his operation has become massive. He's always been a hard worker who is incredibly ambitious.
Year on year he continues to raise the bar and that's what's so impressive about the man.
'A winner a day' - analysis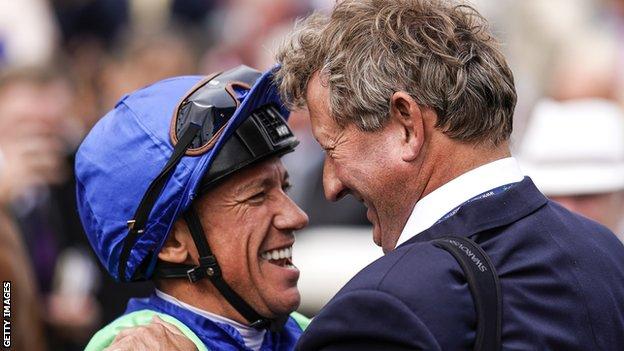 Frank Keogh, BBC Sport
"Always trying" - that's the motto which adorns the horse lorries of Mark Johnston, who is always trying to set the bar higher.
For the last quarter of a century, the no-nonsense Scot - who grew up on an East Kilbride council estate - has been racking up winners with familiar regularity.
He may not have enjoyed quite the star quality of horses trained by greats such as Sir Michael Stoute and the late Sir Henry Cecil, but he has more winners than them.
To put it in perspective, his tally equates to having a victory every single day for more than 11 years.