One for Arthur: Grand National winner makes comeback 20 months on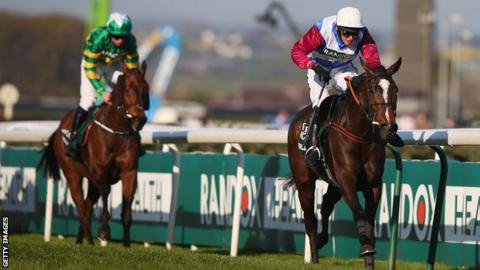 On Saturday afternoon, just after 14:00 GMT, Aintree will welcome back a hero. A Grand National winner who has not seen competitive action since galloping his way into the history of the great race.
It's been 20 months since One For Arthur, the steeplechaser sent from equine heaven to Lucinda Russell's yard in Milnathort, ate up the ground in the closing straight in Liverpool to win the National for Scotland. Twenty months, too, since a tendon injury laid him low and ensured that his finest race was also his last race.
The comeback is now on - and how fitting that it will be in the same place as his momentous victory.
Arthur won't be jumping the National fences on Saturday, nor going the four miles he went in 2017. No, this is a three-mile chase over regular fences, a warm-up before another warm-up scheduled for January.
Not that Russell or her team are looking too far ahead, but all going well, the big target after that will be Grand National day, 2019 and a tilt at number two.
"I sometimes sit back and think about the pressure that's on us because here we have a horse who is Scotland's hero," says Russell. "I never doubted he'd come back, but we've missed him. I'm about to put him into battle again and I have to get it right.
"He's quite private, you know. He's not a soft, snuggly, head-over-the-door type of horse, but his personality changed when he won the National. He loved the TV and having his photo taken.
"He's intelligent. I mean, he couldn't read a book but he understands the atmosphere around him and he absolutely knows that it's time to go back to work. He's full of himself again. He's on his toes.
"You saw him today. It's like he's saying, 'oh, hello, but I'm eating, so see ya later'. He has tuned back into being a racehorse. I would never believe that his personality could change twice.
"He was a warrior before the National, then he became a superstar and a model and loved it for a while and now he's back to being a warrior again."
Honoured by the Queen - 'An immense thing'
In the preamble to the National last year, reporters took to asking Russell if she thought that winning at Aintree would change her life. She made light of the question, but now she knows why it was posed.
Unquestionably, it has changed her life. It has brought her better horses, good owners, great staff. It has energised the business.
Arthur was one of the main reasons why she was awarded an OBE this year. "I got it from the Queen and it was an immense thing," Russell says. "She really knows racing. She asked about the horses and I said I was just waiting for soft ground before running some of them and the Queen said that I'd be glad to hear that she'd just come back from Scotland and that it was raining heavily.
"Arthur changed a lot of things. I mean, if you are training the Scottish rugby team and they go and win the World Cup then you know for sure that you're doing the right things. Arthur winning reconfirmed all that's in my head.
"This is what I wanted to do my whole life. All I ever wanted to do when I was younger was look at horses all day - and that's what I do. I was the kid who sat in the house and if I heard a horse trot by I would jump up to the window to look at it. If there was a horse in a field I would just look at it.
"I went to St Andrews University and there's a museum next door that had a horse's skeleton and I just used to go in and stare at it. All my life I've been like that."
Arthur was eight years old when he won the National, has since turned nine and, if he makes it back to Aintree next April, he'll be 10. He should still be in his prime as a chaser. Don't Push It and Ballabriggs were both 10 when they won the National in 2010 and 2011. The next three winners - Neptune Collonges, Auroras Encore and Pineau de Re - were all 11.
"We now have a horse who has had time off," explains Russell. "The girl who rides him at home says he is the same as he was before the National, he's as good as he was before the injury.
"He'll be rusty on his comeback, he'll be lacking match practice, but we still think he's very special. He'll be higher in the handicap and he'll have younger horses to deal with, but with a bit of luck, Saturday will be the start of another exciting adventure."
A dream came true once. Working round the clock in an effort to make it come true again is what the racing game is all about.