Equine Flu: British horse racing cancelled until at least 13 February
Last updated on .From the section Horse Racing
Horse racing will not resume in Britain until Wednesday, 13 February at the earliest after an outbreak of equine flu, the British Horseracing Authority has announced.
All fixtures on Thursday were called off by the BHA after three vaccinated horses tested positive for the disease.
Trainer Donald McCain has confirmed the horses came from his Cheshire stables.
Horses from the infected yard raced on Wednesday, potentially exposing a significant number of horses.
"This precautionary approach is intended to ensure we put the health of the horse population and control of the virus first, and avoid any unnecessary risk that might come from returning to racing too quickly," said a BHA statement.
"We appreciate the impact that this may have on the sport commercially, but disease control in order to mitigate the risk of further disruption to the sport - and safeguard the health and welfare of our horses - must be a priority."
The meetings at Chelmsford, Doncaster, Ffos Las and Huntingdon on Thursday were cancelled. Racing had been due to take place at Bangor, Kempton Park, Newcastle and Southwell on Friday.
On Saturday, Lingfield, Newbury, Uttoxeter, Warwick and Wolverhampton were on the schedule, with Exeter, Musselburgh and Southwell hosting events on Sunday.
This announcement also means the Monday races at Catterick, Hereford and Wolverhampton will not go ahead, nor will the fixtures on Tuesday at Ayr, Lingfield and Newcastle.
The statement added: "The BHA's veterinary team has today been in contact with more than 50 trainers and veterinarians to allow it to make an informed assessment of the risk of equine influenza spreading.
"While no further positive tests have been received, at least three more days are required before it will be possible to make a decision about whether it is safe to resume racing.
"The disease can take up to three days before symptoms are visible, meaning it will take until Sunday at the earliest before the BHA can gather all the information required.
"This approach will allow samples to be collected and assessed by the Animal Health Trust in order that a fully informed decision can be made on Monday. This may then allow declarations to take place on Tuesday in time for racing on Wednesday."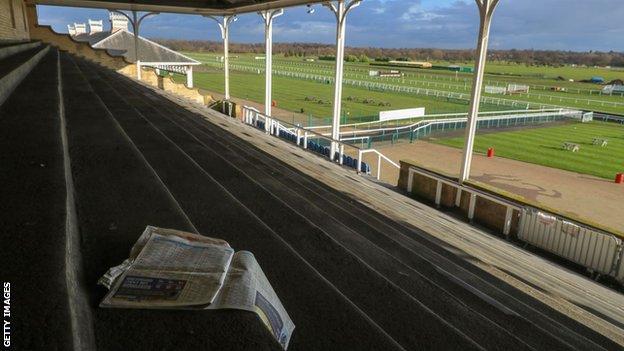 'All our horses are fully inoculated' - what McCain has said
In a statement issued through the National Trainers Federation, McCain said: "I have been aware of the recent news about equine influenza outbreaks in France and Ireland, and over the last couple of days, I have been concerned about the health status of a small number of horses in the yard.
"Their welfare is at the front of our minds, so at my request our veterinary surgeon has examined them regularly and we have followed his advice on testing and treatment.
"It was by following this protocol that the positive results for equine flu came to light yesterday evening.
"The BHA were contacted immediately and we are liaising closely with them about bio-security and management of all the horses at Bankhouse. Bankhouse follows all the available advice on disease control and all our horses are fully inoculated."
He added: "We are scrupulous about observing the health status of horses in our care and taking the necessary steps to treat any condition that may affect them. It follows we would never race any horses that we could have known were infected.
"Over the last two months, all potential runners have been scoped and their blood checked within 36 hours of their races to ensure that only healthy horses compete for the yard.
"When new horses arrive at our yard we, as much as possible, try to keep them separate but at this stage cannot know if the infection came from recent arrivals or from horses returning from racing.
"We have three confirmed cases and this morning have taken blood and swabs from all the others for testing."
David Sykes, director of equine health and welfare at the BHA, added: "We would like to thank Donald McCain for his co-operation in this matter, and for the responsible manner in which he has dealt with this issue, under the guidance of his veterinary surgeon.
"He has acted professionally with the interests of the racing industry and the health of his horses as his priority."
'It couldn't have happened at a worse time - analysis
Cornelius Lysaght, BBC horse racing correspondent
This is a dramatic turn of events. The sport had been hoping that tests carried out would be sufficiently reassuring for racing to resume quickly. The good news is that no new cases have been discovered, but the science says the virus can take up to three days to be identified so that takes us to Sunday.
If an all-clear is then given, it will then take a couple of days of admin to get things back together. Health and welfare is paramount, of course, but so near to the Cheltenham Festival, this couldn't have happened at a worse time and it will be hoped that Saturday at Newbury can be re-arranged.