Belfast Giants sign Canadian forward Adam Keefe
Last updated on .From the section Ice hockey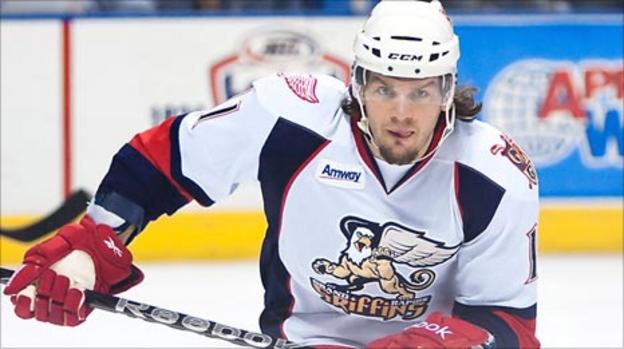 The Belfast Giants have completed the signing of Canadian forward Adam Keefe for the forthcoming season.
Keefe arrives in Belfast after playing a split season in the East Coast Hockey League and the American Hockey League.
Giants General Manager Todd Kelman says Keefe is a player who "plays with grit, passion and an edge that has made him a favourite wherever he has played".
"The bottom line is that Keefe is a tough player who likes to fight when the time is right," added Kelman.
"He looks after his team-mates, is going to get in the face of other players and has the confidence in himself to back it up."
"Ice hockey is a tough game, it's not all about fighting, but one of the most interesting parts about our sport is that guys can sort their own differences out themselves on the ice.
"It keeps players honest and brings another element to an already exciting sport.
"I know Keefe is going to be a fans' favourite here in Belfast.
"He is going to be exciting to watch, he is going to give everyone on our team more confidence and he is going to raise the intensity levels at Giants game this year."
Keefe commented that he was "excited to bring my high energy and reckless game to the Giants for a successful season".
Last season Keefe played 40 games for the Grand Rapids Griffins after playing 31 for the Toledo Walleye.
Earlier this week, the Giants announced the signings of Canadian trio Jeremy Rebek, Benoit Doucet and Darryl Lloyd.
The Giants will begin their season on the Bank Holiday weekend at the end of August when they face Nottingham in back-to-back games at the Odyssey Arena.