Russian plane crash kills Lokomotiv ice hockey players
Last updated on .From the section Ice hockey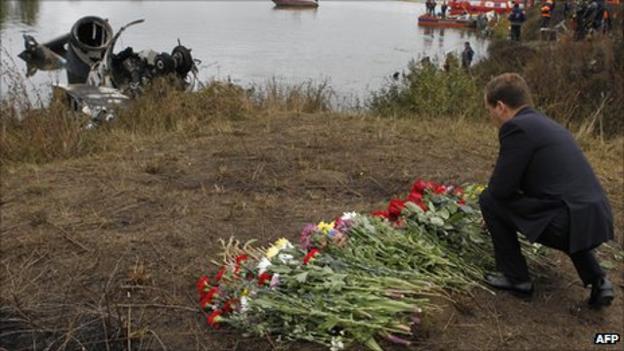 The deaths of 36 players and officials in a plane crash in Russia have been described as an "irreparable loss" by the Russian Ice Hockey Federation.
Those confirmed dead include former Swedish Olympic champion Stefan Liv and former New Jersey Devils player Alexander Vasyunov.
The plane was carrying the Lokomotiv Yaroslavl team to Minsk, where they were to play Dinamo Minsk on Thursday.
Lokomotiv came third in the Kontinental Hockey League (KHL) last year.
The KHL is an international competition which pits teams from Russia, Belarus, Kazakhstan, Latvia and Slovakia against each other.
According to the latest reports, there were 45 people on board - 37 passengers and eight crew. Forty-three people are reported to have died.
The team's coach was Canadian Brad McCrimmon, who also died in the incident. He took over the role in May and had previously been an assistant coach with the Detroit Red Wings.
Among the dead are Ruslan Salei, captain of the Belarus national team, Slovakia's captain Pavol Demitra, three Czech international players - 2010 world champions Josef Vasicek, who won the Stanley Cup with Carolina Hurricanes in 2006, Jan Marek and Lokomotiv's captain Karel Rachunek.
German Robert Dietrich and Latvian Karlis Skrastins were also killed.
Tomas Kral, the president of the Czech Ice Hockey Association, was shocked to hear the news of the players' deaths.
"Jan Marek, Karel Rachunek and Josef Vasicek contributed greatly to the best successes of our ice hockey in recent years, first of all to the golden medals at the world championships in 2005 and 2010," Kral said.
"They were excellent players, but also great friends and personalities. That's how we will remember them."
There were also some members of the Russian national team on board - Gennadiy Churilov and Alexander Kalyanin.
Two players from Russia's youth team, Daniil Sobchenko and Yuri Urychev, who became under-21 world champions in 2011, also died in the crash.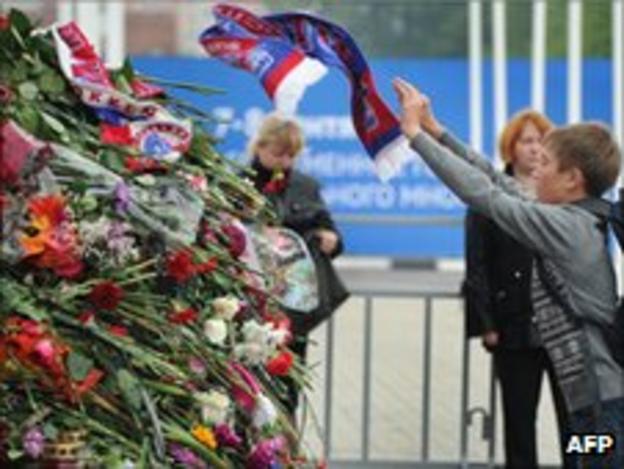 International Ice Hockey Federation president Rene Fasel said: "This is the darkest day in the history of our sport. This is not only a Russian tragedy, the Lokomotiv roster included players and coaches from 10 nations.
"This is a terrible tragedy for the global ice hockey community with so many nationalities involved.
"Our thoughts and prayers are with family and friends of the victims. Despite the substantial air travel of professional hockey teams, our sport has been spared from tragic traffic accidents. But only until now."
Russian Ice Hockey Federation president Vladislav Tretiak commented: "We have suffered an irreparable loss. I still cannot believe what happened. Our hockey has lost great players and coaches. It's just a terrible tragedy for the sport.
"We will do our best to ensure that hockey in Yaroslavl does not die, and that it continues to live for the people that were on that plane."
National Hockey League commissioner Gary Bettman also offered his condolences saying: "Though it occurred thousands of miles away from our home arenas, this tragedy represents a catastrophic loss to the hockey world, including the NHL family, which lost so many fathers, sons, team-mates and friends who at one time excelled in our league."
Russia and the other former Soviet republics have suffered some of the world's worst plane tragedies.
In 1979, an airliner heading from the Soviet republic of Uzbekistan to Minsk carrying the Pakhtakor Tashkent soccer team collided in mid-air with another passenger plane, killing 178 people, including 17 members of the Pakhtakor squad.
A plane crash in 1950 near the Russian city of Sverdlov, now called Yekaterinburg, claimed the lives of 13 players and officials in the air force's ice hockey squad.