Ice hockey team to be rebuilt after plane crash tragedy
Last updated on .From the section Ice hockey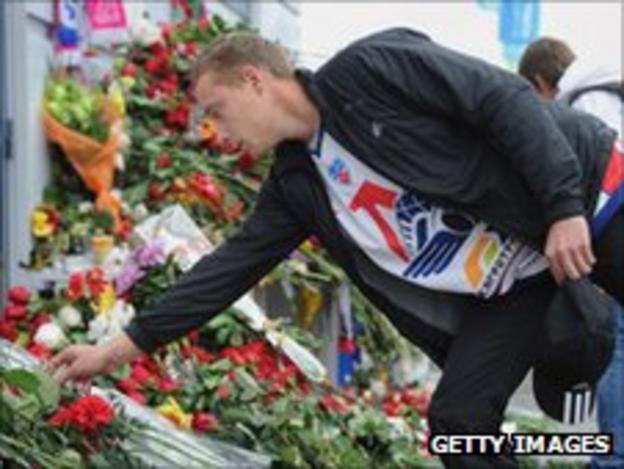 Officials want to re-build the Lokomotiv Yaroslavl ice hockey team "within days" after the plane crash which killed almost the entire squad.
The Russian season begins on Monday and the it is hoped other clubs will allow players to play for Lokomotiv.
In total Wednesday's tragedy which killed 44 people, including 36 players and officials.
"They will play in the new KHL season," said Russian ice hockey league chief Vyacheslav Fetisov.
The league will be working out a solution to allow players to transfer from other clubs to play for Lokomotiv, although players from the club's youth squad could also be called upon.
KHL president Alexander Medvedev has said that each of the 18 teams in the league should volunteer up to three players each toward building a new Lokomotiv squad.
Fetisov, the most decorated hockey player in Russian history, added: "Many of the league's players said right after the tragedy they were ready to support Lokomotiv and play for Yaroslavl in the new season.
"At least 30 players have already expressed their desire to play there. This says a lot about players' solidarity and the tremendous traditions of our hockey."
Only Aleksandr Galimov, a 26-year-old winger for the side, and Aleksandr Sizov, the plane's engineer, were said to have survived the disaster, with both in a critical condition.
The two survivors were taken to Yaroslavl's Solovyov Hospital, where Dr Alexander Degyatryov said in a statement: "The state of health of both of them is very grave. But there is still some hope."
Washington Capitals' Russian captain Alex Ovechkin said he has been left in shock by news of the crash.
Ovechkin told NHL.com: "I know lots of guys there and I know Galimov. I hope he is going to be alive and good.
"It doesn't matter who you are, the most important thing is to be here in this world. Nobody could imagine that this would happen. I'm still in shock.
"It's scary in this world because you never know what can happen. This is not a national tragedy. It's an international tragedy."
NHL commissioner Gary Bettman said in a statement: "Though it occurred thousands of miles away from our home arenas, this tragedy represents a catastrophic loss to the hockey world - including the NHL family, which lost so many fathers, sons, team-mates and friends who at one time excelled in our league.
"Our deepest condolences go to the families and loved ones of all who perished."