Edinburgh Capitals are mauled by Nottingham Panthers
By Craig Anderson
BBC Sport Nation
Last updated on .From the section Ice hockey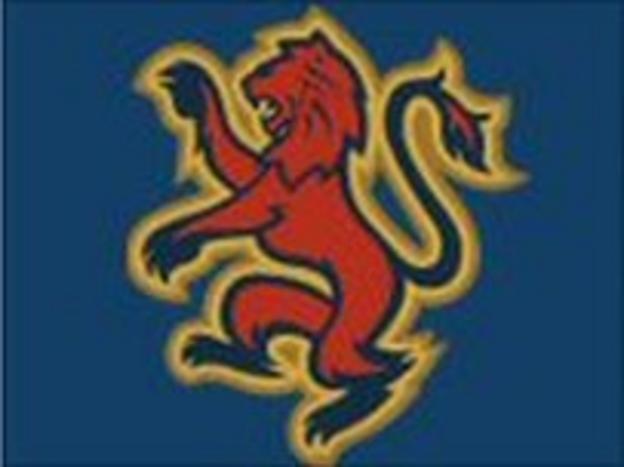 Edinburgh Capitals still have work to do this season, but they can be buoyed by a battling display against in-form Nottingham Panthers.
The Capitals had earned a reputation of being the Elite League's whipping boys for much of last season.
But they held their own in this season's curtain raiser despite what appeared a one-sided scoreline.
However, Panthers, who put 10 past Coventry in their opening match, finally wore down the Caps' defence.
The home side defended resolutely for much of the first period, but their resolve was finally broken by Matt Francis and Jordan Fox, who both netted immediately prior to the first interval.
It was a deserved breakthrough as the Panthers dominated for much of the opening period, but the home side improved steadily as the match wore on.
A David Beauregard shot beat Caps goaltender Nathan Craze to make it 3-0 before the home side got forward and managed to penetrate the Nottingham goal.
Bari McKenzie's shot was well saved by Panthers goalie Craig Kowalski before he put away Ashley Calvert's initial effort a minute later to give the home fans something to cheer.
However, David Clarke's slapshot from just inside the blue line beat Craze at the roof of his net and the visitors' three goal lead was restored before the second break.
Beauregard's clever flick sealed the 5-1 win for Corey Neilson's men, giving them four points from four in their two opening league matches.
Capitals scorer McKenzie said: "We battled really well against a team that will be challenging, that won so comfortably in beating Coventry 10-1 during the week.
"With a few new faces, I think we can compete and there were many things about this performance we can be pleased about."
Elite League, Scottish results and scorers:
Saturday, 10 September
Fife Flyers 0-2 Coventry Blaze (McLean 1:38, Fussey 16:01 PP)
Sheffield Steelers 4-1 Dundee Stars (King 1:09, Clark 24:31 PP, Ramsay 27:17, Clark 33:59); (Ceman 54:22)
Sunday, 11 September
Coventry Blaze 9-0 Fife Flyers (Owen 0:57 PP, Farmer 11:04 PP, Farmer 17:41, Guthrie 20:25, Farmer 25:26, Fussey 32:38 PP, Fulghum 33:12, Phillips 54:08, Kralj 56:50)
Edinburgh Capitals 1-5 Nottingham Panthers (McKenzie 29:46 PP); (Francis 16:41, Fox 19:25, Beauregard 26:55, Clarke 35:22, Beauregard 53:47)