Edinburgh Capitals unable to tame Nottingham Panthers
By Craig Anderson
BBC Sport Nation
Last updated on .From the section Ice hockey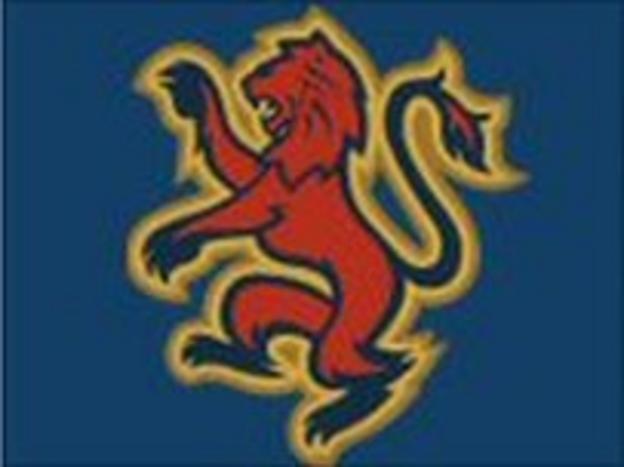 Edinburgh Capitals endured another miserable weekend, conceding 16 goals in two matches.
On Saturday evening, Capitals lost 8-1 to Belfast Giants.
And the following day, again in the Elite League at Murrayfield, Nottingham Panthers scored eight times without reply.
And the Capitals can count themselves lucky that the score was restricted to eight, with netminder Nathan Craze saving the hosts from further misery.
A David Beauregard shot flew into the net for Nottingham Panthers after five minutes, before Matt Myers doubled the lead with a short handed goal as Stephen Lee sat out a penalty.
Jeff Hereema finished well for a third midway through the first period then Beauregard took advantage of Craze inadvertently dropping the puck to pile on the misery.
The home side were 4-0 down at the first interval and looking weary, but at times could only blame themselves for missing the few chances they had themselves.
Scott Champagne tapped in number five then David Clarke finished Corey Neilson's low puck across to make the score a more than comfortable 6-0 in the second.
But Beauregard and Clarke added a goal each in the third period to make sure they left Scotland with maximum points this weekend, after their 6-2 win over Fife Flyers on Saturday.
Capitals' player-coach Richard Hartmann said: "The positives we could take from this we are creating chances and our goalie playing well.
"Fatigue was probably an issue as we've been on the road a lot in the last 24 hours, but the bottom line is we made three mistakes and they scored three goals from them."
Elite League, Scottish results and scorers:
Saturday, 17 September
Belfast Giants 8-1 Edinburgh Capitals (McBride 5:23 PP, Dowd 15:46, LeBlanc 22:06, Doucet 35:31, Crane 37:01, Hutchinson 38:10, Dowd 50:17 PP, Keefe 56:16); (Jarolin 53:22 PP)
Fife Flyers 2-6 Nottingham Panthers (Hamilton 22:22, Fowley 51:32); (Hereema 18:51 PP, Fox 22:42, Clarke 30:06, Myers 35:00, Clarke 37:00, Lachowicz 56:35)
Sunday, 18 September
Dundee Stars 0-1 Belfast Giants (Brock McBride 03:46 OT)
Edinburgh Capitals 0-8 Nottingham Panthers (Beauregard 05:07, Myers 09:48, Hereema 10:55, Beauregard 15:44, Champagne 29:46, Clarke 38:35, Beauregard 48:11, Clarke 51:05)