NHL condemns fan's banana throw as 'stupid and ignorant'
Last updated on .From the section Ice hockey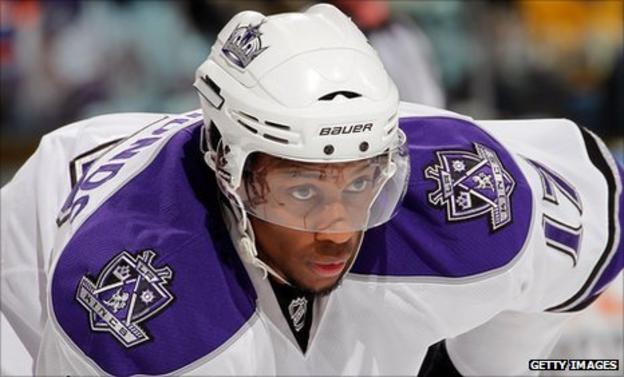 The NHL has condemned the throwing of a banana at Philadelphia's Wayne Simmonds in London, Ontario as "stupid and ignorant".
Simmonds, who is black, was targeted as he attempted to score a penalty against Detroit in a pre-season exhibition game in the Canadian city on Thursday.
After the match Simmonds said: "When you're black, you kind of expect things. You learn to deal with it."
The person who threw the banana on to the ice has not yet been identified.
Simmonds, who had earlier tied the game when he scored in the final minute of regulation time, scored his penalty in the shoot-out despite the attempt to disrupt him.
The 23-year-old, who was born in Ontario, added: "It shocked me and I knew I had to keep going and get a shot off. It was certainly unusual.
"I guess it's something I obviously have to deal with - being a black player in a predominantly white sport."
National Hockey League commissioner Gary Bettman was keen to stress it was an isolated incident, saying: "We have millions of great fans who show tremendous respect for our players and for the game.
"The obviously stupid and ignorant action by one individual is in no way representative of our fans or the people of London, Ontario."
Former NHL goaltender Kevin Weekes, a Canadian television hockey commentator who is black, had a banana thrown at him in Montreal during the 2002 playoffs while playing for the Carolina Hurricanes.
"I'm not surprised," Weekes said. "We have some people that still have their heads in the sand and some people that don't necessarily want to evolve and aren't necessarily all that comfortable with the fact that the game is evolving."
The mayor of London, Joe Fontana, issued an apology to Simmonds on behalf of his city, which is 115 miles west of Toronto.
"It was a stupid and mindless act by a single individual, however it reflects badly on our entire community. London is a diverse and welcoming city and we like it that way.
"I want the person responsible to have a bit of class, come forward and say they made a mistake."
There are traditions of tossing items onto the ice in the NHL. Detroit fans are known for hurling an octopus onto the ice during big games. One fan tossed a crab on the ice in a pre-season NHL game this week at Baltimore whil Florida Panthers fans have been known to hurl plastic rats on the ice in celebration.