Braehead Clan begin Elite League season with a bounce
By Craig Anderson
BBC Sport Nation
Last updated on .From the section Ice hockey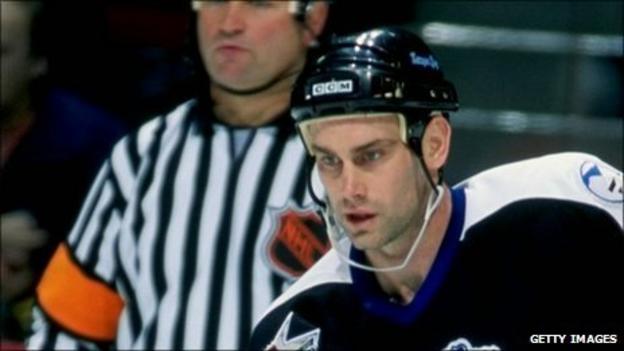 Braehead Clan finally began their Elite Ice Hockey League season on Saturday, with some other sides having already played seven matches.
The Glasgow side started in emphatic style with an impressive 6-0 victory over Dundee Stars.
Clan were backed by more than 2,500 fans who were treated to an impressive display of hockey from the home side.
The new-look side, led by new player-coach Drew Bannister, were comfortable and controlled the match throughout.
Vince Connon opened the scoring eight minutes in, skating in to finish Jade Galbraith's saved effort before Clan captain Jordan Krestanovich added the home side's second.
Dundee put up better resistance in the second period, but could not find a way past the impressive Braehead keeper Jaakko Suomolainen, who was imperious between the pipes.
The Stars' hopes of getting anything were killed off in the third period when Krestanovich was again put through by Galbraith, and the result was the same, with Clan moving three goals up.
Defenceman Jim Jorgenson marked his debut with the fourth, lashing home shorthanded from inside the blue zone and Chris Whitley was well beaten by the strike.
Adam Walker rebounded in Connon's shot for number five before Ryan Campbell finished Kyle Bruce's square pass to complete the rout and seal two points for Bannister's men.
Afterwards, Krestanovich said: "To come out with a 6-0 win after only being together for a week is a great start, especially against a team like Dundee, who have improved this season.
Dundee Stars coach Dan Ceman said: "We made way too many mistakes, especially when we outshot them in the first two periods, but somehow kept shooting ourselves in the foot."
Elite League, Scottish results and scorers:
Friday, 23 September
Belfast Giants 9-1 Fife Flyers: (Mason 1:07, Keefe 12:10 SH, Crane 16:42 PP, McBride 18:54, Mason 21:44 PP, Dowd 31:04, Dowd 32:56 PP, Crane 36:09, McBride 39:17); (Stewart 25:49)
Saturday 24 September
Braehead Clan 6-0 Dundee Stars: (Connon 8:40, Krestanovich 16:58, Krestanovich 45:24 SH, Jorgensen 46:16, Walker 50:57, Campbell 51:45 SH)
Fife Flyers 3-2 Edinburgh Capitals: (Hamilton 15:59 SH, Cohen 53:03 PP, Siddall 54:05 PP); (Jarolin 13:33, Holecko 48:15 PP)
Sunday 25 September
Dundee Stars 1-4 Nottingham Panthers: (Konkle 50:56); (Lee 0:50, Lepine 36:42 PP, Clarke 56:51, Lachowicz 58:57)
Edinburgh Capitals 2-4 Braehead Clan: (Jarolin 12:33, Zembergs 52:52); (Wedderburn 5:44, Haywood 27:17, Krestanovich 39:20 SH, McPherson 54:53)
Hull Stingrays 3-2 (SO) Fife Flyers: (Tandler 7:03 PP, Rodin 40:51); (Gunn 32:01, Dutiaume 49:16 PP)