Forward Derek LeBlanc leaves Belfast Giants
Last updated on .From the section Ice hockey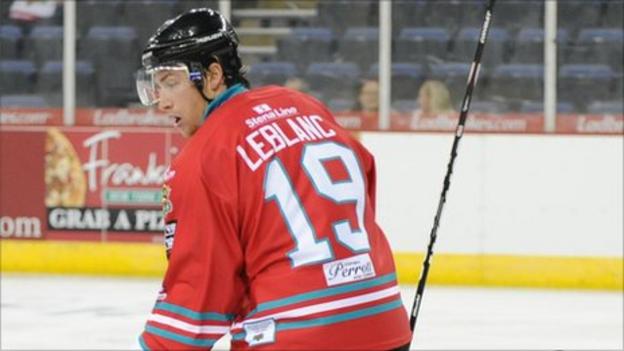 Forward Derek LeBlanc has announced that he is leaving the Belfast Giants for personal reasons.
LeBlanc has been released from his contract and is returning to Canada immediately.
The Giants have moved quickly to sign a replacement - Aaron Clarke, who was one of coach Doug Christiansen's original transfer targets during the summer.
"When I learned that Leblanc might be leaving, I knew who I wanted," said Christiansen.
"Aaron and I spoke during the summer and we came very close to a deal.
"He is a hard-nosed skill player who can play in any situation.
"He is also a very fast player who can score.
"Last season, Clarke showed his toughness by playing with a broken foot for the entire play-offs.
"He is a confident competitor but he hasn't been playing this season so it will take him time to get in game shape.
"I am confident he will be a point-a-game player who can play in every situation."
Clarke will be wearing number eight for the Giants.
The Giants hope to have him in the line-up against Nottingham next weekend at the National Ice Center.