Fife Flyers' wings clipped by Edinburgh Capitals
By Craig Anderson
BBC Sport Nation
Last updated on .From the section Ice hockey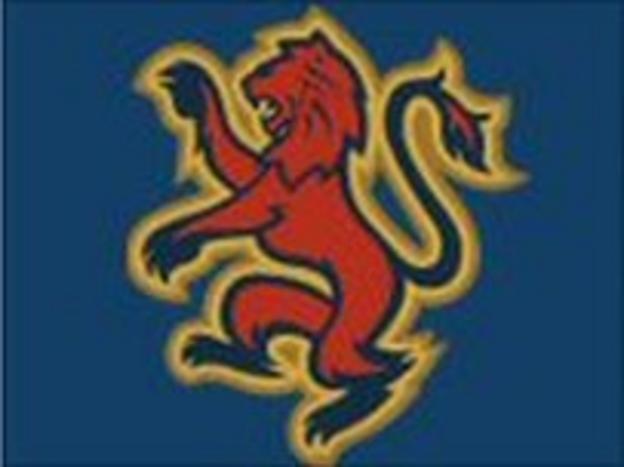 Resurgent Edinburgh Capitals kept their recent spate of good form going as they again put local rivals Fife Flyers to the sword.
Flyers opened the scoring early through Thomas Muir, but Richard Hartmann's tap-in from Rene Jarolin's square pass pulled the home side level early in the first.
The Slovak duo combined for the Caps' go-ahead goal with Hartmann returning the favour for Jarolin to flick the puck past Garrett Zemlak's glove and into the net.
Confidence was high among the Edinburgh men after their 3-2 win in Hull on Saturday and, when Hartmann added his second, and Peter Holecko's deadly shot made it 4-1, there was only going to be one winner.
Matt Siddall's goal for Flyers could have made things interesting in the third, but Holecko netted his second before Siddall pulled the scoreline back to 5-3.
Hartmann set up Jarolin again to restore the three-goal lead, but Steven Gunn kept Fife's fading hopes alive before the Caps player-coach extinguished them with his hat-trick at the end.
Afterwards, Edinburgh forward Bari McKenzie said: "This was my first four-point weekend with the club and it definitely feels good.
"Everything's just clicking for us and our speed makes us hard to play against. We've got so much talent in this team and it's starting to show."
Fife Flyers' player-assistant coach Matt Siddall said: "The calibre of hockey is high in this country and we have to start to bring our best game every night. We're not doing it enough."
Elite League, Scottish results and scorers:
Friday 21 October
Elite Ice Hockey League
Belfast Giants 7-1 Dundee Stars (Doucet 1:06, Doucet 4:50, Pelle 17:53, Pelle 46:48 PP, Peacock 51:40 PP, Dowd 51:52 PP, Lloyd 55:15); (Hutchins 11:32)
Saturday 22 October
Elite Ice Hockey League
Braehead Clan 7-4 Fife Flyers (Krestanovich 4:08, Jorgensen 7:20 PP, Connon 11:44, McPherson 22:06, Krestanovich 47:50 PP, Bayrack 55:17 PP, Krestanovich 59:37 EN); (Siddall 19:58, Siddall 32:16 PP, Hamilton 39:54 PP, Stewart 52:37)
Cardiff Devils 7-3 Dundee Stars (Birbraer 19:19, Pierce 35:07, Pierce 40:34 PP, Birbraer 46:14 PS, Pierce 47:17 PP, Burrows 51:13, Piggott 55:11); (Ceman 38:10 PP, MacLean 49:51, Mazur 58:14 PP)
Hull Stingrays 2-3 Edinburgh Capitals (Osman 28:27 PP, Silverthorn 48:08 PP); (Jarolin 9:40 PP, Holecko 23:16, Jarolin 37:05 PP)
Sunday 23 October
Elite Ice Hockey League
Dundee Stars 1-2 Hull Stingrays (McGoff 3:20 PP); (Cloutier 18:03, Silverthorn 38:12 SH)
Edinburgh Capitals 7-4 Fife Flyers (Hartmann 5:03, Jarolin 13:21, Hartmann 26:30 PP, Holecko 30:25, Holecko 47:41, Jarolin 55:26 PP, Hartmann 18:45 EN); (Muir 3:42, Siddall 45:54, Siddall 48:32, Gunn 57:25 PP)