Capitals winning on and off the ice
By Craig Anderson
BBC Sport Nation
Last updated on .From the section Ice hockey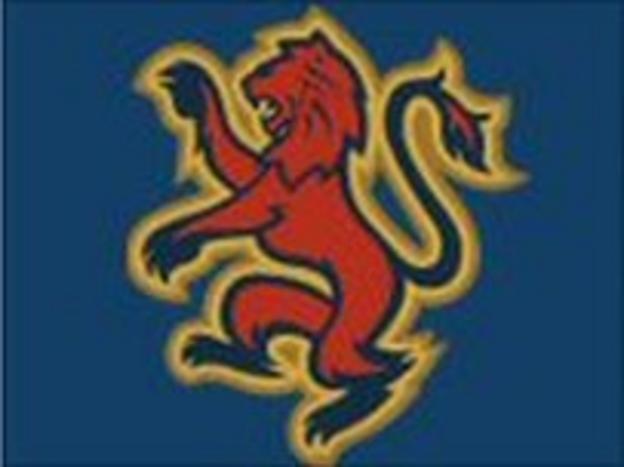 When Edinburgh Capitals ended their 39-match winless run by beating rivals Fife Flyers last month, it symbolically ended a dark chapter in the club's history.
Beset by heavy financial burdens, largely blamed on the terrible wintry weather that affected Scotland last year, Edinburgh were the league's whipping boys.
Their future in the Elite League was at stake and their very survival was questioned.
Now, a different story emerges from Murrayfield Ice Rink as the troubles seem to be over.
Scott Neil, custodian of the Caps from their inception following the collapse of Murrayfield Royals in 1998, has overseen the whole episode.
His role as general manager was taken over by Matthew Tailford last month, allowing Neil to assist in a more background role.
Now he says he's pleased he can take a step back from such a prominent role, where he even doubled as head coach in the middle of the problems.
"After running the club for about 13 years I'm happy to be taking more of a back seat now, and Matthew coming allows the club to be taken forward," said Neil.
"Our major problem last year was the loss of projected income for what would have been six massive games as the snow caused these games to be scrapped.
"Double-headers with Belfast Giants and Nottingham Panthers, as well as matches with Dundee and Braehead, were seen as our biggest financial stretch of the year.
"As a result our coach, Brad Gratton, and imported players left and, as anyone can see from the results for the rest of the season, it had a major effect on us."
The summer saw the Caps start to bring imports again, but instead of looking at players in the North American and Canadian markets like their Scottish rivals, Edinburgh opted for Eastern Europe.
Richard Hartmann, now the club's player-coach, Rene Jarolin, the league's third highest scorer, Tomas Valecko and Peter Holecko were all added among others.
However, off the ice, there was seemingly one last twist in the tale when a local paper ran a story that Len Wilcox and investor Raymond Lumsden were taking control.
The club released a statement to confirm that Mr Wilcox had agreed the general manager role in principle, but, when further changes were mooted to be made immediately, Neil and Tailford said they needed more time.
As a result, Lumsden and Wilcox pulled out and Tailford was installed as the new general manager, allowing Neil to take on his new role.
Neil insists it wasn't a takeover in the truest sense, but admits he was happy to accept a scaled-down role in a new structure anyway.
He added: "I certainly wouldn't call it a takeover, but the proposals being put forward were not the best way ahead for us.
"As it's worked out, I've taken a step back anyway which was what I wanted, but I'm pleased Matthew's involved and it gives us someone with new ideas and a freshness."
As if it was timed, the week of Tailford's appointment saw the club finally get that win over Fife Flyers to end the drought.
Since then, they've played a further six matches, winning four, including Sunday's 5-3 win over Braehead Clan.
But Neil reckons that win should have come sooner, when the Caps were edged to a 3-2 defeat by the Flyers in Kirkcaldy a fortnight before.
"We should have beaten Fife the first time around a couple of weeks earlier when we lost two late goals," he said.
"But it was nice to finally win that game and I was especially happy for the guys that had worked hard through what happened last year.
"If anything they've benefitted from last season's experience and it's made them better players, so it was a win that was a long time coming.
"But it shows we've got a coach in Richard Hartmann who has come in and is happy working with the local players and he's made his mark on the team."
Now, as the season continues and the Caps enjoy their resurgence, Neil admits he's not quite got a new job title yet.
He joked: "I don't think I've got an official title anymore since Matthew took over from me.
"Just 'working away in the background' is probably the best way to describe me.
"I'm trying to help out in any way I can in with integrating Matthew into the club and the job, but I will need to sit down and see what I can call myself."