Belfast Giants pound Edinburgh Capitals 8-2
By Craig Anderson
BBC Sport Nation
Last updated on .From the section Ice hockey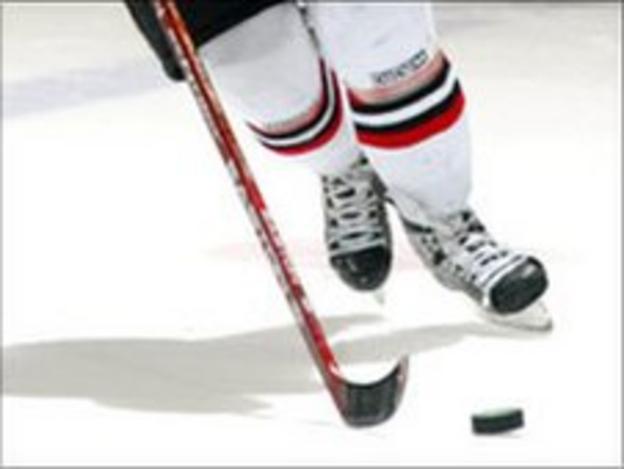 Craig Peacock's hat-trick for the Belfast Giants set the Irishmen off to a comfortable win over a patchy Edinburgh Capitals team.
The Murrayfield side were comprehensively beaten by the Elite League leaders, who climbed above Braehead Clan in the Challenge Cup standings following this win.
Caps netminder Craig Holland had no chance with the first after Peacock was set up by Jeremy Rebek, then the Giants man added a second when his shot sneaked in.
Tom Dignard made it 3-0 early in the middle period when he smashed his effort into the net then Sean Menton swiped home from close range to give the Caps a small lifeline.
It didn't last long though as Peacock smashed his hat-trick goal in barely a minute later, before Rene Jarolin set up Marcis Zembergs to finish the home side's second goal.
Jan Safar and Peacock came to blows in a fight that saw Belfast's hat-trick hero given a lengthy penalty, while Giants' Nick Kuiper was ejected from the match for his role as "third man in".
Jeff Mason's shot was diverted into the net by Benoit Doucet then Robert Dowd finished Peacock's square pass to make it 6-2 in the third period.
Mark Garside added another before Dowd finished the rout by scoring Belfast's eighth with a couple of minutes left on the clock.
Caps' defenceman Danny McIntyre reckons his side had good spells in the game, but not enough to put in a decent challenge to the imperious Giants.
He said: "We performed well in spells and we never played to our system, allowing their guys to get to us. No matter how good the opponents are, losing 8-2 to any team is never good.
"We had a great hard-fought win in Dundee on Saturday so the legs were starting to tire in the third period against the Giants, but that's no excuse to lose by that scoreline."
Scottish results and scorers:
Friday 11 November
Elite League
Belfast Giants 6-3 Fife Flyers: (Pelle 3:33 PP, Awada 22:37 PP, Doucet 31:16, Dignard 33:15 PP, Lloyd 42:09, Doucet 55:31 PP); (McAlpine 7:01 PP, Hamilton 46:53 PP, Cohen 50:49 PP)
Saturday 12 November
Elite League
Braehead Clan 10-1 Fife Flyers: (Bannister 4:13, Bayrack 14:04, Galbraith 17:25, Bayrack 30:47, Krestanovich 34:28, McPherson 39:08, Bayrack 39:30, Bayrack 41:12, Galbraith 45:09, Galbraith 56:08 PP); (Cohen 47:02 PP)
Dundee Stars 2-3 Edinburgh Capitals (OT): (McIntosh 28:59, Ceman 44:21); (Sladok 8:29 PP, McKenzie 43:47, Jarolin 62:44 OT)
Sunday 13 November
Elite League
Cardiff Devils 3-4 Braehead Clan (OT): (Pierce 31:54, Birbraer 35:51 SH, Davies 54:32); (Bayrack 34:16 PP, Bayrack 37:45, Bayrack 40:58, Wedderburn 64:29 OT)
Coventry Blaze 4-3 Dundee Stars: (Owen 8:14 PP, Park 25:41, Fulghum 44:54 PP, McLean 50:11 PP); (Dolan 24:29, Hughes 34:03, Ceman 45:23 SH)
Fife Flyers 1-8 Nottingham Panthers: (Siddall 47:53); (Fox 3:53, Wilson 17:28, Lachowicz 23:09, Fox 28:09, Beauregard 32:42, Meyers 43:42, Heerema 49:27 PP, Levers 59:19)
Challenge Cup
Edinburgh Capitals 2-8 Belfast Giants: (Menton 26:25, Zembergs 29:30); (Peacock 11:44, Peacock (15:28 SH, Dignard 21:19, Peacock 27:17, Doucet 37:02 PP, Dowd 51:25, Garside 55:51, Dowd 57:33