Edinburgh Capitals beat Braehead Clan in Elite League
By Craig Anderson
BBC Sport Nation
Last updated on .From the section Ice hockey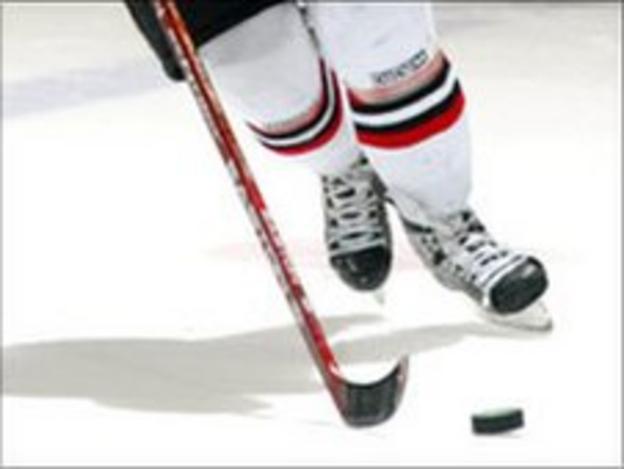 Rene Jarolin's hat-trick sealed another four-point weekend for the much-improved Edinburgh Capitals - but goaltender Nathan Craze was the real hero.
The Welshman was simply outstanding as the Caps got two huge points against their Scottish rivals, although Braehead, despite being the better team, didn't help themselves.
The Slovak forward opened the scoring, finishing off after Clan keeper Jaakko Suomalainen parried Richard Hartmann's shot.
Then Jarolin took advantage again, easily slotting home Jan Safar's effort, again parried by Braehead's Finnish goaltender.
For all Clan had enjoyed the percentage of the shots and the majority of the pressure, they contrived to shoot themselves in the foot for the goal that killed them off.
Needlessly silly penalties from Clan coach Drew Bannister and Jade Galbraith reduced the visitors to five on three, which saw Tomas Valecko add the Caps' third on the powerplay.
Galbraith finished a square Mike Bayrack pass to give Braehead a lifeline in the third period as they tried to salvage something.
Then it was game on when Matt Haywood executed a wonderful slapped shot to reduce the arrears to 3-2 and set up a nervy, but exciting end to the game.
However, Jarolin completed his hat-trick at the death by scoring an empty net goal to follow up their Saturday win over Hull Stingrays.
"It was a team effort and the team played brilliantly and in defence were solid," said Caps goalie Craze modestly. "It makes life easier for me certainly.
"Braehead didn't stop battling and guys like Jade Galbraith and Mike Bayrack are top quality. I just tried to do my best and keep the puck out."
Braehead coach Bannister said: "We outplayed this team with a short bench for 55 minutes, but their goalie deserves a lot of credit and played very well."
Scottish results and scorers:
Saturday 19 November
Elite League
Braehead Clan 2-4 Sheffield Steelers: (Bayrack 53:13 SH, Bayrack 59:44 PP); (Finnerty 20:33 PP, Legue 24:26, Legue 26:51, Legue 35:47 PP)
Edinburgh Capitals 3-1 Hull Stingrays: (Jarolin 3:50, Valecko 10:26, Holecko 19:39); (Davies 14:04)
Fife Flyers 1-7 Belfast Giants: (Siddall 2:44); (Peacock 18:43, Lloyd 32:10 SH, Pelle 45:03, Rebek 49:25 PP, Keefe 49:50, Pelle 50:40, Pelle 54:54 PP)
Sunday 20 November
Elite League
Edinburgh Capitals 4-2 Braehead Clan: (Jarolin 3:35, Jarolin 30:05, Valecko 37:56 PP, Jarolin 59:40 EN); (Bayrack 34:16 PP, Bayrack 37:45, Bayrack 40:58, Wedderburn 64:29 OT)
Dundee Stars 3-4 (ASO) Belfast Giants: (Ceman 1:25, MacLean 16:38, McIntosh 29:16); (Lloyd 1:37, Crane 7:34 PP, Rebek 12:45)
Hull Stingrays 3-2 Fife Flyers: (Osman 28:10, Silverthorn 52:34 PP, Tendler 53:38); (Siddall 36:23, Stewart 58:11 PP)