Edinburgh Capitals are beaten by Dundee Stars
By Craig Anderson
BBC Sport Nation
Last updated on .From the section Ice hockey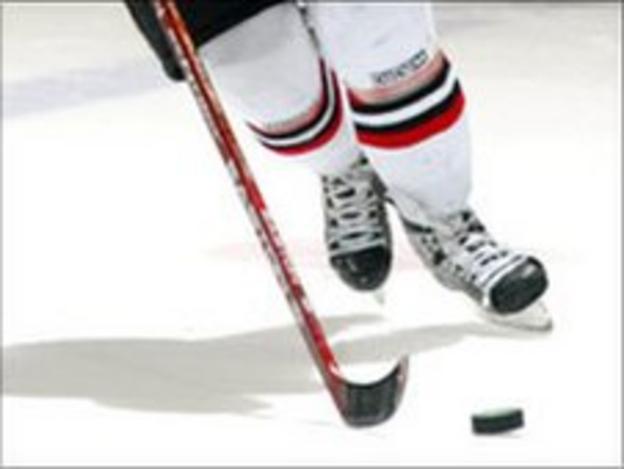 Dundee Stars blew away a lacklustre Edinburgh Capitals side as they registered their first Elite League win in six matches.
The Tayside men, who were beaten 3-0 by Coventry Blaze on Saturday, rallied to blitz the Caps with a four-goal salvo in the first period.
Former Capitals' stalwart Jeff Hutchins opened the scoring in a slick breakaway move that left the home side flat-footed as he smashed his shot in off the far post.
Then AJ MacLean's shot was rebounded past Caps netminder Nathan Craze by Gary Wishart for the second as the Stars asserted themselves.
A slack pass allowed Jarrett Konkle to intercept and square for Lee Mitchell who added the visitors' third goal 11 minutes into the game.
Number four came courtesy of Hutchins, who was in the right place to divert Chris Zarb's shot past Craze.
Edinburgh settled down after the first break, but failed to get any joy going forward, with Stars keeper Chris Whitley having a quiet shift.
But his team-mates made it 5-0 as Brent Hughes' puck was sent into the far side, where Hutchins was on hand to finish and complete his hat-trick.
Wishart added a sixth late in the third period when he fired into an unguarded net from an excellent Mitchell pass.
Dundee coach Dan Ceman said: "This win is not just a huge confidence boost, it's huge for morale as well after the season we had. It was a great all-round performance."
Edinburgh Capitals forward Jordan Steel said: "We weren't at the races right from the very start. We prepared as normal, but Dundee were all over us and we completely fell apart."
Scottish results and scorers:
Saturday 26 November
Elite League
Belfast Giants 6-4 Braehead Clan: (Mason 14:58, Doucet 26:14 PP, Doucet 28:03, Pelle 55:37, Peacock 57:50, Garside 59:04 EN); (McPherson 12:27, Haywood 36:26, McPherson 47:00, Bayrack 52:06 PP)
Dundee Stars 0-3 Coventry Blaze: (Wood 4:51, Park 37:04 PP, Farmer 48:05)
Fife Flyers 2-4 Edinburgh Capitals: (Gunn 39:59, Gunn 47:33 PP); (Zembergs 2:26, McKenzie 9:26, Menton 32:35, Menton 44:23)
Sunday 20 November
Elite League
Cardiff Devils 5-1 Fife Flyers: (Pierce 3:43, MacRae 21:21, Birbraer 41:53, Pierce 49:13, Matzka 54:49); (Cohen 40:41)
Edinburgh Capitals 0-6 Dundee Stars: (Hutchins 3:48 SH, Wishart 6:55, Mitchell 11:04, Hutchins 15:46, Hutchins 29:09, Wishart 52:23)
Hull Stingrays 2-3 Braehead Clan: (Silverthorn 34:21, Osman 54:05); (Bayrack 6:45, McPherson 39:39, Galbraith 52:27 PP)