Fife Flyers beat Braehead Clan in Elite League
By Craig Anderson
BBC Sport Nation
Last updated on .From the section Ice hockey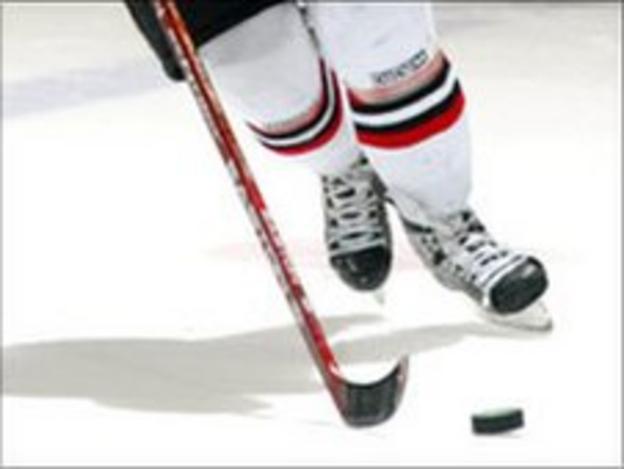 A Mike Hamilton hat-trick helped seal struggling Fife Flyers' second win in 20 matches over a poor Braehead Clan.
While it snowed outside, the Flyers were on a hot streak inside as they surged into a two-goal lead by the end of the first period.
Hamilton flicked in the opener before adding the second from Matt Siddall's cutback.
Siddall made it 3-0 early in the second before Kevin Phillips pulled one back for the visitors.
Canadian Hamilton clinched his hat-trick early in the third period before Danny Stewart piled more misery on Clan when he finished Matt Cohen's pass to make it 5-1.
Braehead finally started to make some headway in the game when Adam Walker sent his shot flying past Fife keeper Garrett Zemlak, then Mike Bayrack scored to make it 5-3.
Sensing the home side's edginess, the Clan stepped it up a gear but, despite Bayrack adding his second to pull it back to 5-4, Fife were worthy winners on the night.
Flyers player-coach Todd Dutiaume said afterwards: "We needed two points and, while we went into our shell a little in the third period, we held on well.
"Statistically we tend to lose a lot of goals in the third period because we're running out of gas, so we had to stay calm. It's a big confidence boost for us, for sure."
Clan forward Adam Walker said: "We were pretty tired after playing seven games in the last two weeks, but it definitely wasn't good from our point of view.
"Fife played well, to be fair, and they took advantage of our mistakes, but we're a better hockey club than that and we'll look to address the problems we had in the week ahead."
Scottish results and scorers:
Friday 2 December
Dundee Stars 1-2 Edinburgh Capitals: (Mitchell 39:48); (Jarolin 17:10, Zembergs 22:14)
Saturday 3 December
Elite League
Braehead Clan 2-0 Edinburgh Capitals: (Campbell 11:44)
Coventry Blaze 7-2 Dundee Stars: (Farmer 4:12, Farmer 6:22 PP, Bakrlik 7:08, Kralj 16:48 PP, Phillips 33:11, McLean 33:39, Park 41:56); (Dolan 3:52, Turner 52:34)
Fife Flyers 1-7 Belfast Giants: (Siddall 2:44); (Peacock 18:43, Lloyd 32:10 SH, Pelle 45:03, Rebek 49:25 PP, Keefe 49:50, Pelle 50:40, Pelle 54:54 PP)
Sunday 4 December
Elite League
Edinburgh Capitals 2-3 (APS) Coventry Blaze: (Holecko 18:36, Jarolin 37:30); (Kralj 40:36, Bakrlik 45:32)
Nottingham Panthers 5-4 Dundee Stars: (Fox 3:34, Beauregard 19:39 PP, Lachowicz 25:29, Lepine 40:23, Heerema 47:49 PP); (MacLean 21:25 PP, Dolan 41:15 PP, Dolan 43:01, Turner 52:42 PP)
Fife Flyers 5-4 Braehead Clan: (Hamilton 4:46, Hamilton 10:16, Siddall 22:40, Hamilton 42:02, Stewart 48:45 PP); (Phillips 34:43 PP, Walker 51:46, Bayrack 56:09, Bayrack 59:19)