Fife Flyers still looking for take-off
By Craig Anderson
BBC Sport Nation
Last updated on .From the section Ice hockey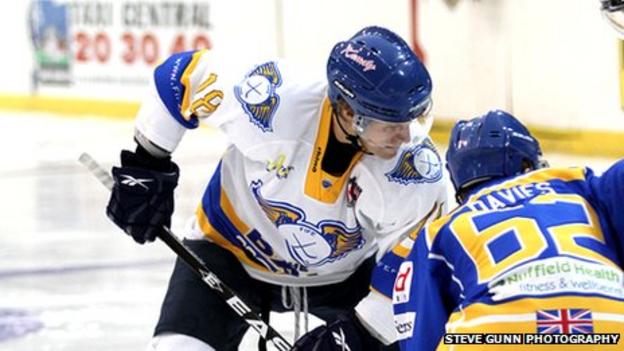 The decision to award the vacant Elite Ice Hockey League place to Fife Flyers was seen by many as a deserved return to the big time.
In truth, it hasn't gone as well as planned.
Sunday's unexpected 5-4 win over Braehead Clan was only the Kirkcaldy side's third victory in 25 matches since stepping up, replacing the now defunct Newcastle Vipers.
While the joy of that particular win cheered the suffering supporters who crammed into the Fife town's arena on Sunday, they haven't all been pleased about the club's progress.
In fact, some have vented their frustration on message boards about the supposed lack of support for player-coach Todd Dutiaume, who admits this transition hasn't been easy.
Dutiaume said: "When I came here 13 years ago, Fife were a very successful side and were winning things regularly. This season, by contrast, has been particularly difficult to swallow.
"You can take it personally with loss after loss, but I felt we started with a hand tied behind our backs. We were only admitted into the league at the end of June.
"After that, we had to sign players and upgrade the rink to the league's standard so we were handicapped from the off. On the upside though, some of the British guys have improved significantly.
"But I told the management I wasn't happy with how things were going. The progress hasn't happened for us as quickly as I would like and that's been hugely frustrating for me.
"I got their backing and I've been looking to bring at least one new face in. It's been a long, arduous process, but I feel it is getting there."
The imports the club have brought in have performed well it must be said, with Mike Hamilton - who scored a hat-trick in Sunday's win over Braehead - and Matt Siddall regular points scorers.
Netminder Garrett Zemlak has also been a star for the Fifers, consistently performing in the face of a lot of heavy pressure from the opposition.
But the consensus seems to be that another imported face or two could go a long way to helping the club out of the bottom place in the league table they currently occupy.
Commercial consultant Allan Paul only joined the club in October after fulfilling a similar role for Elite League rivals Dundee Stars for five years.
And he feels change is around the corner as he gets his teeth into promoting the club, but warns that they can't afford to go gung-ho and must continue to adopt a prudent attitude.
He said: "I've only been at the Flyers a short time, but I feel the frustrations Todd and the fans have had about the way things have gone.
"I certainly share the opinion that a couple of new faces could help make this team more competitive, and to do it now would give the team a timely boost to push for the play-offs.
"But that involves bringing in money and my job is to promote and sell the club with schemes and to attract potential new investors.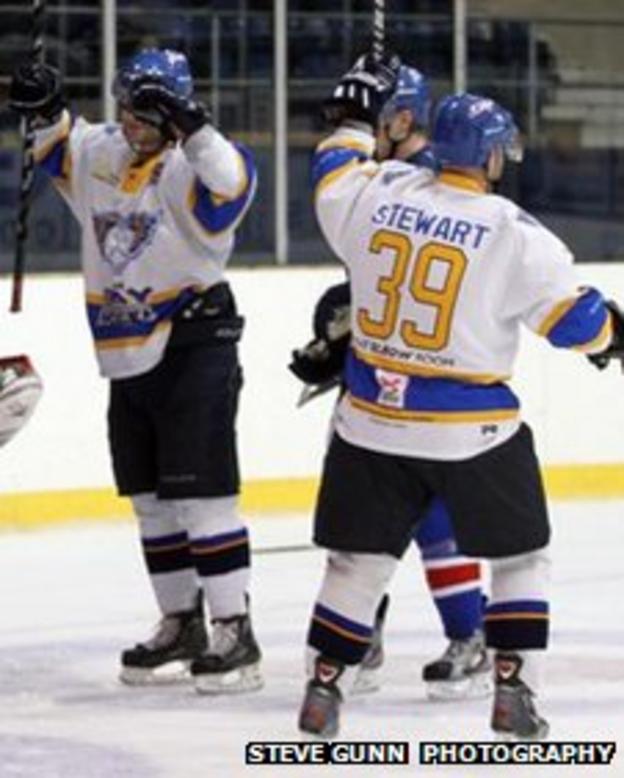 "The fans rightly want success, but one thing we cannot do is take a cavalier attitude towards finances.
"There's no point winning the league one year then going bust the next.
As for the fans, seeing their team lose week after week must be soul-destroying after years of success in the British League and, more recently, the Northern League.
One fan, 38-year-old Dave Cunningham, remains positive that it will all come good in the end, but reckons the club and management were caught a little short in terms of the league's quality.
Cunningham said: "I'm actually enjoying seeing the Flyers playing in the Elite League and I think we've spent too long in the wilderness.
"My views may not represent that of all the fans, but I don't think you can fully blame the management side of things. The quality of the league maybe caught them off guard.
"I also think some people's expectations of our first Elite League this season far outweighed the reality of what it's become.
"I understand it's taken longer to get going than expected, but we have improved as the season's gone on and I'm optimistic new faces could make a huge difference."
With that in mind, the future looks positive, but Dutiaume has warned that any new acquisitions will not change the teams fortunes round overnight and patience is still needed.
He added: "These guys are not going to suddenly improve us or have us charging up the league table. They'll take time to bed in and we're still working to bring them in.
"This season is still about establishing ourselves at this level and the thinness of the squad has been frustrating for me, especially when we pick up injuries, but we are getting there."