Fife Flyers lose 6-5 in overtime to Sheffield Steelers
By Craig Anderson
BBC Sport Nation
Last updated on .From the section Ice hockey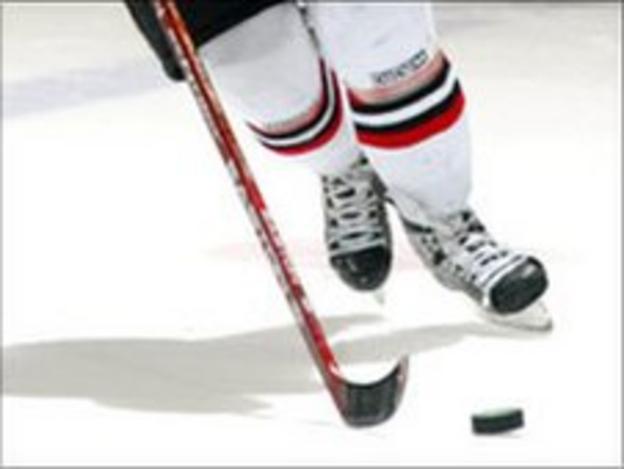 Fife Flyers came close to springing the season's biggest surprise on league contenders Sheffield Steelers, going down 6-5 in overtime on Sunday.
Todd Dutiaume's men were 5-1 up in the third period, but the Yorkshiremen stormed back with Jeff Legue scoring to take the game to overtime.
The Flyers' luck ran out and Mark Thomas snatched victory as Steelers ended the game as winners.
"Tiredness had crept into our play," said Dutiaume.
We played with only six imports and four inexperienced Brits.
"For more than two periods, we outplayed them, but we started making mental and physical mistakes. I'm pleased with the point we got, but I wanted two."
Edinburgh Capitals travelled to Coventry Blaze on Sunday, still looking for their first win of the season against a side in the top half.
However, it was not to come this weekend, despite Marcis Zembergs firing them into a two-goal lead in the first period.
The Blaze came storming back in the second period, netting four - including two from Dustin Wood - before adding a further three in the third to seal a thumping 7-2 win.
Dundee Stars were also on the wrong end of a severe drubbing when they hosted Braehead Clan on Sunday and were left reeling as Clan romped it 7-1.
In-form Jordan Krestanovich scored twice to make it five goals in three matches since returning from injury, as well as a Jade Galbraith hat-trick.
Adam Walker and Jim Jorgensen scored the other goals to compound the Stars' misery, with Jeff Hutchins netting with what turned out to be an early consolation.
Interim Dundee Stars coach Brent Hughes said: "Too many guys played as individuals and when Braehead scored at the end of the first period, we seemed to panic."
Scottish results and scorers:
Saturday 17 December
Elite League
Belfast Giants 5-4 Dundee Stars: (Walton 6:43, McBride 9:36, Pelle 13:26, Rebek 30:36 PP, Pelle 56:26); (Zarb 12:52, Hutchins 35:14, Konkle 43:14, Konkle 58:47 PP)
Cardiff Devils 3-2 Edinburgh Capitals: (MacRae 43:49 PP, Richardson 44:34 PP, Pierce 47:41); (Hartmann 34:48 PP, Jarolin 50:04 PP)
Sheffield Steelers 5-3 Fife Flyers: (Ramsay 20:26, Fulghum 20:43, Ramsay 33:07 PP, Trudel 47:23, King 59:53 PP; (Wands 51:40, Hartmanis 53:58, Hamilton 55:48)
Sunday 18 December
Elite League
Coventry Blaze 7-2 Edinburgh Capitals: (Wood 27:50 PP, Wood 30:28 PP, Farmer 33:45, Fussey 36:36, Bakrlik 50:22, Kralj 53:40, McLean 58:47 SH); (Zembergs 2:29, Zembergs 12:21 PP)
Dundee Stars 1-7 Braehead Clan: (Hutchins 4:54 PP); (Galbraith 4:03, Krestanovich 19:01, Galbraith 24:20, Walker 27:11, Jorgensen 29:40, Krestanovich 36:47, Galbraith 52:19)
Fife Flyers 5-6 Sheffield Steelers: (Siddall 22:00 PP, Dutiaume 26:22, Hartmanis 34:50, Siddall 39:43 PP, Hartmanis 44:35); (Finnerty 36:11, Fulghum 44:32, Birnstill 44:50 PP, Fulghum 47:25 PP, Legue 57:04, Thomas 60:31 OT)